Mentoring Fairs, career forums, and internships encourage and promote the next generation of leaders by providing students and young professionals the opportunity to meet with international affairs professionals to discuss career experiences and to learn firsthand what tools are needed to excel in their fields. In addition to the organization's hallmark Mentoring Fairs, WFPG has organized numerous other activities over the years including career panels, a big sister program, career fairs and seminars. WFPG also offers discounted student and young professional
membership
rates and
competitive and substantive internships
which equip young women with the skills needed to excel in the field of international affairs.
Since 2006, WFPG has held annual DC and NY Mentoring Fairs, which make it possible for WFPG members to advise students and young professionals on careers in international affairs. Mentors share their experiences from a variety of sectors including: the UN, Foreign Service, NGOs, international business, human rights, and national security.

Each fair offers over 150 students the opportunity to gain access to committed senior and mid-level professionals in an informal setting where they can ask questions and seek insight on the range of skills and experiences that would enhance their ability to enter and succeed in international careers. Fairs draw students from universities across the region, including: American, Brandeis, Columbia, Georgetown, GW, Howard, Johns Hopkins, Maryland, NYU, Princeton, UPenn, William and Mary, and Yale.

Many thanks to all the support of our mentors, funders and host universities. Join us as a mentor or funder in 2015!
"I was able to meet professionals that directly match my interests in international law and the UN. I have been able to connect with them after the fair and hope to keep in touch!"
– Yekaterina Reyzis, George Washington University

"It was unbelievably inspiring, informative and exciting to talk to each and every mentor. In fact, at the fair, I was reminded of my passion in life; to have an international career through which I can have an impact on the world."
– Asli Sevinc, Oberlin College

2014 DC NY | 2013 DC NY Forum | 2012 DC NY Forum | 2011 DC NY Forum
2010 DC NY | 2009 DC NY | 2008 DC NY | 2007 DC NY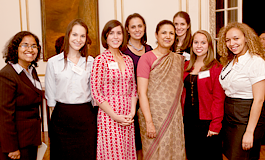 WFPG is a key player in broadening the constituency for international affairs, bringing together participants from across disciplines, and linking women domestically and internationally. As part of our commitment to mentoring WFPG welcomes several interns in our office every semester. Meet our interns!
Our internships provide interns with substantive experience in the non-profit and foreign affairs fields. Apply today!


"WFPG provides a wonderful introduction to office work, foreign policy, and Washington, DC...The opportunity to work as a Jack-of-all-trades' intern and learn several different tasks and skills is one of the strongest aspects of this internship."
– Sarah Craig, WFPG Intern Summer 2011
Princeton University, Class of 2014

"I have truly been inspired by the women that I have met, heard speak, and worked alongside this summer. The WFPG did so much to introduce me to the possibilities that exist."
– Becca Balis, WFPG Intern Summer 2011
University of Pennsylvania, Class of 2010

"I was deeply impressed by the strong work ethic at WFPG. Since WFPG is a very small non-profit, every person is expected to pull his or her weight, and I appreciated working in an atmosphere that was focused and driven. The collaborative atmosphere and set-up meant that I never felt like simply a cog in the machine."
– Sarah Craig, WFPG Intern Summer 2011
Princeton University, Class of 2014

"The amount of close contact with members of the foreign policy community and the mentoring provided by the WFPG staff was invaluable. I was impressed by how seriously the WFPG takes its mentoring mission, how often I was asked about my own interests and goals, and how all the interns were encouraged to take advantage of their time in Washington and the WFPG events to further their own pursuits."
– Taylor Henninger, WFPG Intern Summer 2009
New York University, Class of 2008

"Working in a small office allowed me to interact with many different aspects of the organization and the events that WFPG ran, and I really appreciated the fact that interns were very much part of the team."
– Kaitlyn Neuberger, WFPG Intern Spring 2009
Georgetown University, Class of 2011

"Being able to attend events with such inspiring people like the ambassadors from India and the Netherlands, authors Elisabeth Bumiller and Scott Malcomson, and our Celebrating Women Leaders luncheon keynote speaker Anne Mulcahy was a phenomenal opportunity I will not soon forget."
– Elisabeth Springer, WFPG Intern Fall 2010
Georgetown University, Class of 2011