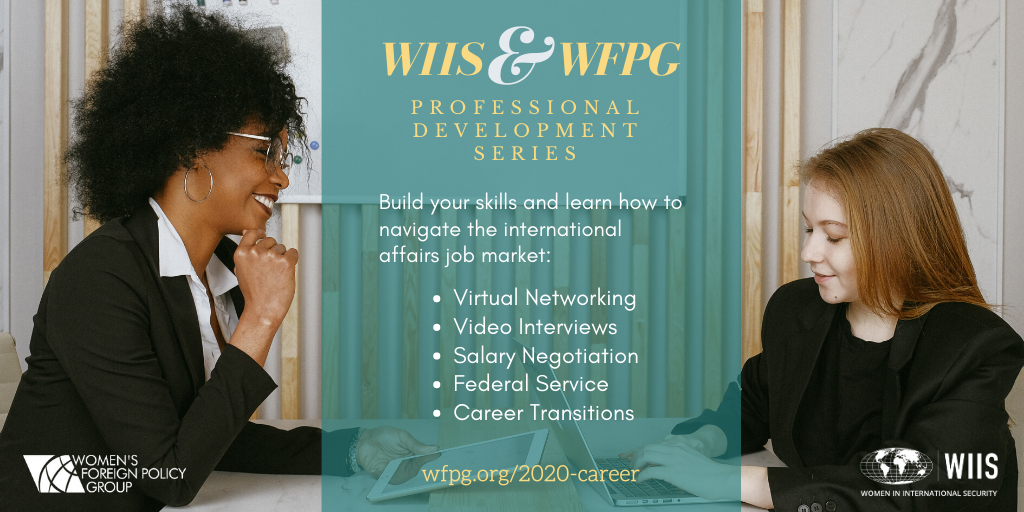 This summer, the Women's Foreign Policy Group and Women In International Security have teamed up to host monthly virtual career development events. Throughout these events, participants can build upon important career development skills and connect with professionals in international affairs. 
So find a quiet corner, grab your laptop and join us for our upcoming programs. Programs are free for WFPG and WIIS members.
---
July 13th |

Working in the Field: 

Opportunities & Challenges for Your International Career



WFPG and WIIS hosted management consultant Michelle Abou-Raad, political parties expert Sef Ashiagbor, security specialist Diorella Islas, and democracy and human rights expert Deborah Ullmer for a discussion on field work and working abroad. During a conversation moderated by Ariela Blätter the panelists covered the variety of opportunities available, what skills are necessary, considerations and logistics, and tips on adapting to a new environment. Following the opening session, participants moved to interactive breakout sessions with the panelists where they could ask their own questions. 
Read more
May 5th | Common Gender Traps in Communications

WFPG and WIIS hosted Lynn Fahselt and Dorry Levine from ReThink Media for an interactive workshop on how to avoid common communications mistakes and to elevate and amplify fellow women's voices in meetings and in the workplace. They covered why it is so important for women to engage in these conversations, as well as the most common errors and strategies to counter these pitfalls both individually and institutionally.
Read more
April 23rd |

Foreign Policy on the Hill: Understanding the Field



The WFPG and WIIS hosted a conversation to delve into the critical role that Congress plays in US foreign policy and the entry-level and mid-career professional opportunities available. Committee staffers Chidi Blyden, Maggie McNamara Cooper, Katherine Earle, and Meghan Gallagher, joined Congressional Research Service foreign policy analyst Katarina O'Regan and moderator Kim Kahnhauser Freeman to share insights from their roles and career paths, their day-to-day responsibilities, and their advice for those interested in pursuing a career in foreign policy on the Hill. The participants then joined speakers in breakout rooms for more informal discussions.
Read more
February 8th |

Exploring the Field: International Affairs Research



International affairs researchers Chantal de Jonge Oudraat of WIIS, Michele Dunne of the Carnegie Endowment for International Peace, Elizabeth Hedge of the Global Women's Institute, and Rui Zhong of the Wilson Center, joined WFPG for an engaging discussion on research careers in international affairs and foreign policy. The panelists shared their career path, advice for those entering the field, and how research can make an impact on the world of policy and advocacy during a conversation moderated by WFPG Executive Director Kim Kahnhauser Freeman. The participants then joined speakers in breakout rooms for more informal discussions.
Read more
December 8th | 
Overcoming Stress and Trauma: Build Your Resiliency in the Age of COVID-19
2020 has been a year of uncertainty and it has posed unique challenges to those working in humanitarian relief, international security, trade, and foreign policy. Personal and global circumstances have taken a toll on professional lives and career pressures have impacted family lives. After opening remarks by

CARE USA Managing Director of Strategic Initiatives & Development Beth Solomon and Co-President of the NY Chapter of WIIS Min Kyriannis, Elizabeth Stanley, creator of Mindfulness-Based Mind Fitness Training, shared advice on how to apply mindfulness skills in your daily life in order to build resilience.

 
Read more
November 10th | 
Diplomatic Toolbox: Multilateral Negotiations
Cosponsored with the Robertson Foundation for Government
As we celebrate the 75th anniversary of the United Nations, we are facing a myriad of global challenges from pandemics and proxy wars to climate change and humanitarian disasters--all of which require cross-border, multilateral solutions. What makes for a successful multilateral negotiation? What role do diplomats play, and what are their responsibilities? How has diplomacy changed during the pandemic? Seasoned negotiators and authors Rebecca Webber Gaudiosi of the US, Jimena Leiva-Roesch of Guatemala, and Ye-Min Wu of Singapore joined us for a conversation as they walk us through their lessons learned. One week later, they held an interactive simulation in which participants could put these multilateral negotiating strategies to the test. 
Read more
September 30th | 
Mindful Connections and Virtual Communication
What makes for a compelling and engaging virtual presentation? How can you use your screen time effectively and develop meaningful professional relationships through remote interaction? Communications expert Scott Morgan shared the do's and don't of giving virtual presentations and leading meetings.
Read more
May 20th | 
Virtual Networking and Video Interviews - How Has the Job Hunt Changed?
World Resources Institute Senior Human Resources Manager Clarissa Balatan, Career Coach Alyssa Best, and Deloitte Analyst Nadia Crevecoeur joined WFPG Executive Director Kim Kahnhauser Freeman for a conversation on how to network and job hunt remotely. The panelists shared best practices for interviews, informational interviews, reaching out through social media, and building and maintaining your network. 
Read more
June 16th
|
Job-Search Toolkit: Interviews, Salary Negotiation, and Getting Your Foot in the Door
Executive Director of the Public Leadership Education Network Sarah Bruno, Cybersecurity/Technology Business Development Lead for Jaros, Baum & Bolles Min Kyriannis, and JNA Associates President Nancy Lubin joined Women In International Security President Chantal de Jonge Oudraat for a conversation on how to put your best foot forward when searching for a new job and interviewing. The panelist shared tips on how to shine in an interview, negotiate salary, and ease into a new work environment. 
Read more
July 16th | 
Federal Service: Navigating Applications and Landing your First Job
Cosponsored with the Robertson Foundation for Government
USAID Senior Women, Peace, and Security Advisor Jennifer Hawkins, Department of Justice Program Analyst Erin McGown, Leadership Council for Women in National Security Executive Director Lindsay Rodman, and the George Washington University's Elliott School Career Coach Sharon Swabb joined WFPG Executive Director Kim Kahnhauser Freeman for a conversation on navigating applications and landing a job in Federal Service. The panelists spoke about the different pathways to public service and gave tips on deciphering USAJobs. 
Read more
August 10th |
Transitions and Taking a Leap: Switching Sectors and Leveraging your Contacts

Program for Mid-Career Professionals
United Nations Peacebuilding Support Office Deputy and Political Director Barrie Freeman, The German Marshall Fund Senior Fellow and Director of Congressional Affairs Reta Jo Lewis, Environment360 Programs and Strategic Partnerships Former Director Wanida Lewis, and VIPKid Global Public Policy Head Wenchi Yu joined Women In International Security President Chantal de Jonge Oudraat for a conversation on switching sectors and leveraging contacts. 
Read more