Engaging and Inspiring Next Generation Leaders


WFPG believes that providing the next generation of women leaders with the tools to succeed is the key to promoting women's voices in foreign affairs. The organization provides a professional forum for women to connect with one another. Our roundtable discussions enable young women—both those in the work force and those still in school—to interact with leaders and role models in the foreign policy community.

We believe that mentoring is a two-way street and WFPG encourages our members to engage across generational boundaries and benefit from each other's knowledge. WFPG offers a forum where women of all ages can broaden their networks, mentor those new to the field and be mentored by those who have come before them.

Through virtual and in-person mentoring and professional development programming the WFPG provides students and young professionals with the opportunity to meet with international affairs professionals to discuss career experiences and to learn first-hand what tools are needed to excel in their fields. In addition to the organization's hallmark Mentoring Forums, the WFPG hosts two 1:1 virtual mentoring programs, a year-long mentorship program and one-off 30-minute informational interviews. Student and young professional members have access to additional mentoring opportunities through WFPG's Young Professional Network.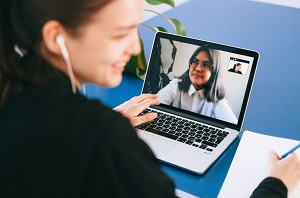 The WFPG's year-long mentor matching program and our Mentoring Minutes sessions help support our younger members as they graduate and search for their first job

—

as well as our young professional and early mid-career members who are taking their first steps towards leadership. Learn more: Mentors | Mentees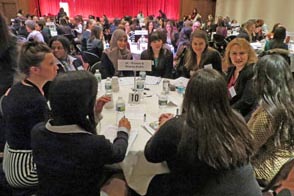 WFPG's Annual Mentoring Forums in Washington and New York provide an opportunity for students and young professionals to meet with international affairs professionals and learn from their career experiences. The informal atmosphere encourages dialogue and enables students to ask questions and seek insight on the range of skills and experiences that would enhance their ability to enter and succeed in international careers. Mentors share their experiences from a variety of sectors including the UN, Foreign Service, NGOs, international business, human rights, and national security.

"I was able to meet professionals that directly match my interests in international law and the UN. I have been able to connect with them after the fair and hope to keep in touch!" – Yekaterina Reyzis, George Washington University

"It was unbelievably inspiring, informative and exciting to talk to each and every mentor. In fact, at the fair, I was reminded of my passion in life; to have an international career through which I can have an impact on the world." – Asli Sevinc, Oberlin College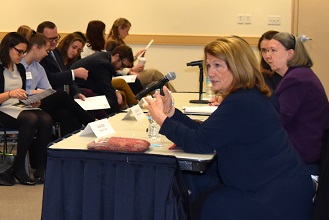 WFPG holds a variety of career panels, workshops and roundtables throughout the year highlighting different career fields. The organization also partners with GWU and NYU for a Non-Profit and Government Career Forum and panel each fall. In these discussions, panelists give an overview of their backgrounds, as well as how their fields have changed, opportunities today, and the importance of and search for work-life balance. 
Past events
YOUNG PROFESSIONAL NETWORK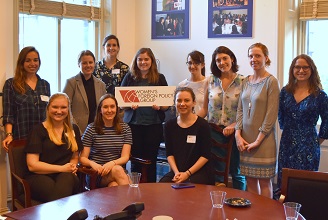 WFPG's Young Professional Network is a member-led discussion group, which hosts professional development and smaller substantive issues discussions in DC, NY and online--as well as networking happy hours and social events. During virtual and in-person roundtables, mid and senior-level professionals join our YPN members for informal discussions about their career paths, current projects, and their experiences in the field. Network members select topics, speakers, and lead the conversations.
Learn more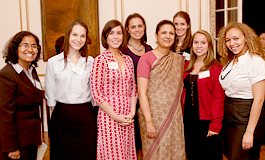 WFPG staff and board members are engaged throughout the year with mentoring younger members and interns. As part of its commitment, WFPG offers substantive internships for 10-12 students each year. These internships 

equip young women with the skills needed to excel in the field of international affairs

. Through its Internship Program, WFPG has mentored over 200 aspiring leaders from over 90 different colleges and universities and 10 countries. Interns are given opportunities to learn more about international issues and how a small nonprofit operates. They are engaged daily with event planning, communications, and research. Meet our interns  
|  Learn more and apply


"WFPG provides a wonderful introduction to office work, foreign policy, and Washington, DC...The opportunity to work as a Jack-of-all-trades' intern and learn several different tasks and skills is one of the strongest aspects of this internship."  – Sarah Craig, Princeton University, Class of 2014

"I have truly been inspired by the women that I have met, heard speak, and worked alongside this summer. The WFPG did so much to introduce me to the possibilities that exist." – Becca Balis, University of Pennsylvania, Class of 2010

"The amount of close contact with members of the foreign policy community and the mentoring provided by the WFPG staff was invaluable. I was impressed by how seriously the WFPG takes its mentoring mission, how often I was asked about my own interests and goals, and how all the interns were encouraged to take advantage of their time in Washington and the WFPG events to further their own pursuits." – Taylor Henninger, New York University, Class of 2008

"Working in a small office allowed me to interact with many different aspects of the organization and the events that WFPG ran, and I really appreciated the fact that interns were very much part of the team."  – Kaitlyn Neuberger,  Georgetown University, Class of 2011

"Being able to attend events with such inspiring people like the ambassadors from India and the Netherlands, authors Elisabeth Bumiller and Scott Malcomson, and our Celebrating Women Leaders luncheon keynote speaker Anne Mulcahy was a phenomenal opportunity I will not soon forget."  – Elisabeth Springer, Georgetown University, Class of 2011