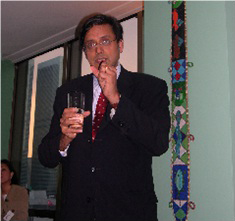 Shashi Tharoor is UN Under-Secretary-General for Communications and Public Information and has led the Department of Public Information (DPI) since January 2001.
Speaking to members and guests at the lovely home of WFPG member and President of beCause Global Consulting, Nadine Hack, in New York, Tharoor discussed the UNs vital role in Iraq. From the beginning when the UN Security Council failed to agree on the draft resolution that would have authorized military action in Iraq until the present, the legitimacy of the UN has been questioned, criticized and, ultimately, redeemed, he said.
Before the war, uncomplimentary words like irrelevant were used to describe the UN. But after President Bush declared major combat in Iraq over, the victorious coalition powers realized it could not even begin reconstruction or bring about any semblance of normalcy in Iraq without the UNs international stamp of approval, said Tharoor.
The UN also proved crucial in helping devise what became known as the Iraqi Governing Council. It continued its humanitarian work even when suicide bombings, which took the lives of Special Representative Sergio Vieira de Mello and others, forced the Secretary-General to withdraw most of its staff. And earlier this year, at the behest of Coalition and Governing Council leaders, the UN stepped in to help midwife a new Iraqi government.
Despite the acrimony of the past year, Tharoor said its time to focus on the task at hand. As far as the UN is concerned, we put behind us what happened last yearthe disagreements, the divisions, the incriminationsthat divided the UN. The Coalition won the war. Our only interest now is to ensure that the Iraqi people win the peace this is not about a leading role for the UN, its about a leading role for the Iraqi people. Its their country. They get to run it for themselves. And our job is, at best, to help them.
Among the future goals for the UN according to Tharoor: to help Iraqis form a consultative chamber until an elected-parliament is in place and to help Iraqis run their first free and fair elections in living memory, scheduled for January 2005.