US-Algerian Relations
Ambassador Abdallah Baali

Photos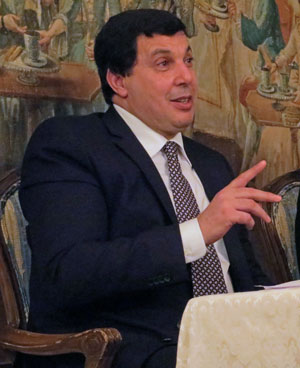 Washington, DC—On February 13, 2013, WFPG held a conversation with Algerian Ambassador Abdallah Baali on the importance of US-Algerian relations and the role of Algeria in North Africa and the Middle East. In his comments, the Ambassador also highlighted the current domestic challenges facing his country. The program was moderated by WFPG President Patricia Ellis and was hosted by Ambassador and Mrs. Baali at their residence, the historic Elms house.

According to Ambassador Baali, US-Algerian relations have never been as strong as they are today. Though the relationship between the US and Algeria has focused primarily on combined counterterrorism efforts, he noted that the growing American interest in the Algerian market and the mutual desire to develop educational ties has encouraged both countries to participate in productive strategic dialogues. The goal of these dialogues, the first of which occurred in October 2012, is to facilitate political, military, and economic relations.

On Algeria's role in the region, Ambassador Baali addressed his country's efforts in maintaining stability. Algeria has provided significant financial support to Tunisia, whose economic problems have threatened democracy in the country. Additionally, Algeria plans to help the Malian government and the Tuareg people resolve their differences, as well as assist in efforts to neutralize the terrorist threat. On the hostage crisis in Algeria in January, the Ambassador underlined that criticism of his government's actions ceased once the details of the situation came to light and explained that there was a need to act immediately to save the lives of hundreds of hostages and prevent the terrorists from blowing up the facility.

The Ambassador also provided an overview of status of women in Algeria. Algerian women were on the forefront of the recent demonstrations, played an important role in the Algerian War of Independence, and have continued to play an integral role in fighting extremism and terrorism in the country. Ambassador Baali proudly shared that half of his nation's judges and doctors are women. In 2012, Algeria also established a 30% quota of women in the national and local assemblies. The Ambassador believes that despite divergent views of the women, parliament will pay more attention to issues of particular concern to women, like the Algerian family code regulating marriage. Although Algeria offers free education and healthcare to all of its citizens, the Ambassador acknowledged the need to improve the quality of these services.

Looking forward, Ambassador Baali has faith in his government's ability to listen and respond to its people's needs, which he said, enabled the government to remain stable during the Arab Spring, and which he hopes will continue to bring more freedoms, justice, and progress to the Algerian people in the 2014 elections and beyond.
Ambassador Baali and Patricia Ellis at the program

WFPG President Patricia Ellis with
Ambassador and Mrs. Abdallah Baali

Ambassador Baali and Board Member
Diana Villiers Negroponte

Patricia Ellis, Ambassador Baali,
and Board Member Sarah Kahn

Members and guests enjoy the reception

Ambassador Baali and Board Member Dawn Calabia

Patricia Ellis, Ambassador and Mrs. Baali,
and Board Member Theresa Loar

Ambassador and Mrs. Baali with guests

Members and guests listen to the discussion


An audience member asks a question