DC Celebration of Women Diplomats
March 19, 2013 | Washington, DC

Photos | Transcript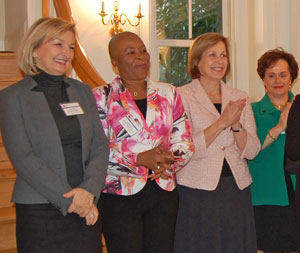 Washington, DC—On March 19, 2013, the Women's Foreign Policy Group held its annual Celebration of Women Diplomats at the Embassy of Estonia, hosted by Ambassador Marina Kaljurand. The program honored the achievements of women ambassadors and deputy chiefs of mission to the United States. Speakers included the Ambassadors of Bosnia and Herzegovina, Botswana, Estonia, Finland, Liechtenstein, Saint Kitts and Nevis, and Antigua and Barbuda. The organization also recognized the Deputy Chiefs of Mission of Barbados, Denmark, the Dominican Republic, Ghana, Kenya, Mexico, Namibia, and Romania. This year, in light of the lively debate spurred by Sheryl Sandberg's new book, Lean In, and Anne-Marie Slaughter's articles, the ambassadors were asked to make brief comments on what can be done to motivate women to believe in themselves and "lean in" to new opportunities to succeed in their careers. Following the remarks, Estonian chef Marika Blossfeldt gave a brief presentation on the food she prepared for the program.

In her comments, Ambassador Jadranka Negodic of Bosnia and Herzegovina explained, "I am coming from the country, a small country, a post-war country, a country in transition where human rights and women's rights are still an issue every day." She recommended that education be a main part of the solution, because it allows women to gain the knowledge needed to make informed decisions about their rights. The Ambassador of Finland, Ritva Koukku-Ronde, also stressed the importance of education, which she said enabled Finland to develop quickly. Koukku-Ronde added that the men should be educated about women and gender equality and that this education starts at home. Ambassador Tebelelo Seretse of Botswana reiterated this point when she noted that Botswana gives its citizens free education from primary school through university. Her comments focused on youth, and how the future of our world lies in the hands of the young women leaders. Seretse encouraged mentorship from established women leaders, saying, "if today, each and every one of us can adopt at least one mentee, regardless of what country they come from, I think we'll all be moving in the right direction."

The Ambassador of Liechtenstein, Claudia Fritsche, listed her four key words for shattering the glass ceiling as authenticity, passion, listening, and living. She stated that both loving one's job and finding time for enjoyment outside of the workplace are essential to success. Ambassador Jacinth Henry-Martin of Saint Kitts and Nevis focused on another key word: confidence. Using her own personal story of being the head of the household while raising three sons, she challenged women to have confidence in their abilities and "lead from in front." The Ambassador of Antigua and Barbuda, Deborah Mae Lovell, shared how she focuses her time as a diplomat on three things: youth, women, and the plight of Afro-descendents, adding that in order to empower young people, both young boys and young girls must be brought together.


Host Ambassador Marina Kaljurand of Estonia
welcomes WFPG members and guests



Ambassadors Claudia Fritsche of Liechtenstein,
Marina Kaljurand of Estonia, Jadranka
Negodić of Bosnia and Herzegovina,
Ritva Koukku-Ronde of Finland, and Patricia Ellis







WFPG President Patricia Ellis opens the program



Patricia Ellis introduces the Ambassadors of
Saint Kitts & Nevis, Bosnia & Herzegovina,
Antigua & Barbuda, Estonia, Finland,
Liechtenstein, and Botswana







Ambassador Jadranka Negodić of Bosnia & Herzegovina



Ambassador Tebelelo Mazile Seretse of Botswana







Ambassador Ritva Koukku-Ronde of Finland



Ambassador Claudia Fritsche of Liechtenstein







Ambassador Jacinth Henry-Martin of Saint Kitts & Nevis



Ambassador Deborah Mae Lovell of Antigua & Barbuda







Ambassador Koukku-Ronde and Ambassador Kaljurand



Ambassador Seretse and US Ambassador Laurie Fulton







Guests enjoy the reception



Jan Du Plain, Ambassador Koukku-Ronde,
Ambassador Fritche, and Patricia Ellis







Ambassador Henry-Martin and Deputy Chief
of Mission Lucy Kiruthu of Kenya



Ambassador Negodić converses with guests







Ambassador Seretse, Patricia Ellis, and
Deputy Chief of Mission Edith Hazel of Ghana



Deputy Chief of Mission Suzanne Shine
of Denmark and Ambassador Kaljurand







Ambassador Fritsche and John Ward of the
Department of State



Ambassador Lovell and Ambassador Henry-Martin