Education during the War: Reflections from Syria
HRasha Faek, Senior Editor, Al-Fanar

Photos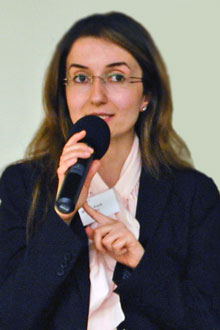 Washington, DC—On June 4, 2013, Rasha Faek, senior editor of Al-Fanar, addressed WFPG and NAFSA: Association of International Educators at a Beyond the Headlines event on "Education during the War: Reflections from Syria." In her remarks, and in the conversation with WFPG President Patricia Ellis, Faek discussed the impact of large-scale civil conflict on the lives of Syria's students, who have seen their universities damaged, closed, targeted in bombings and rocket attacks, and converted into shelter for the displaced. She also touched on the financial, logistical, and psychological challenges faced by Syrian students seeking to continue their studies abroad, and called for the international community to take up a larger role in supporting Syrian students and teachers in their efforts to protect, strengthen, and improve their country's educational system.

Faek emphasized that, despite the scale of the conflict, many Syrian students continue to attend classes, and many Syrian professors continue to teach. Tens of thousands of high-school students took final exams earlier this June; most of the large public universities, including prestigious institutions in Damascus and Aleppo, continue to operate. In many cases, however, the situation has required major adjustments: private universities, which tended, before the conflict, to be located in larger suburban buildings, have had to downsize, shifting their operations into smaller and more secure facilities closer to city centers. As public universities in the highly contested areas of Homs and Deir ez-Zour have closed, government policies designed to facilitate the transfer of their stranded students have resulted in overcrowding at schools in other cities. In cafes and living rooms, Syrians debate, in highly personal terms, the wisdom of continuing to study: whether it isn't safer to stay home, whether the true act of resistance consists in going to class or in dropping out, whether the short-term exigencies of war leave any room for the kind of study that will be necessary for long-term reconstruction.

Faek discussed several instances of violence that have occurred on and around Syrian campuses as the conflict has escalated over the past year: in January 2013, a rocket attack during exams at Aleppo University killed 80 students. Two months later, a bombing at Damascus University killed ten. In 2012, a political dispute between science students on opposing sides of the war ended in a fatal shooting. Universities are not immune to the splits cleaving broader Syrian society—but, as Faek emphasized throughout her remarks, they are populated by students and professors whose determination to continue working and studying is a way of imagining their country's post-conflict future.

Faek also spoke about the conditions faced by Syrian students and teachers who have fled the fighting and who are now living abroad. In Jordan, only private universities have been opened to Syrian students—leaving those without means largely unable to continue their studies. In Jordan and in Lebanon, where a great deal of university-level teaching is done in English, Syrians who have done most of their previous coursework in Arabic find themselves struggling to adjust. Highly qualified professors have enormous difficulty finding new work. Even students lucky enough to obtain scholarships often find their ability to travel abroad restricted by visa requirements and by the paperwork and documentation problems that often plague families who have fled war zones. Faek called for better person-to-person networks to connect exiled Syrian students in need of help with the financial, logistical, and psychological resources that could bring them back into the classroom.

Faek also discussed the role of NGOs and regional governments in helping to rebuild the Syrian educational system. Students and professors in Syria, she explained, are focused on the enormous tasks of keeping each other safe and of keeping their schools open on a daily basis; the creative improvements the Syrian social and educational systems will need once the war has ended are far from their minds at the moment. Members of the international educational community are in a position to take the longer view: they could help by generating ideas for the redesign and the cooperative improvement of Syria's universities—so that when peace comes, the country, its professors, and its students will be ready to rebuild.
Senior Editor of Al-Fanar Rasha Faek



WFPG President Patricia Ellis, Rasha Faek, and Executive Director and CEO of NAFSA Marlene Johnson



Patricia Ellis moderates the event


Marlene Johnson introduces Rasha Faek

Rasha Faek answers questions from the audience


Patricia Ellis poses a question to Rasha Faek about the state of higher education in Syria


Audience members listening during Rasha Faek's remarks


Randa Masri of ConnectME speaks with Rasha Faek




Marlene Johnson speaks with Alexandria Trust Founder Salah Khalil, Ambassador Laurie Fulton,
and Kelly Daschle of the Associated Press

Mary Oakes Smith asks Rasha Faek a question




Gia Cromer poses a question during the Q&A




Emily Harter Ball of the State Department with
Patricia Ellis and Rasha Faek