Venezuela: One Year After the Death of Hugo Chavez
Diana Villiers Negroponte

Photos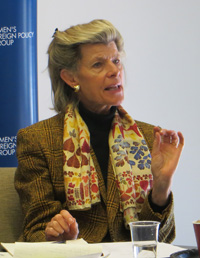 Washington, DC—On March 20, 2014, Dr. Diana Villiers Negroponte, Nonresident Senior Fellow at The Brookings Institution, spoke to the WFPG about the economic and political situation in Venezuela one year after the death of Hugo Chavez. Negroponte provided an overview of Chavismo and the sustainability of these policies under President Maduro. She also discussed the widespread protests, opposition, and deteriorating economic situation. The program was moderated by WFPG President Patricia Ellis.

Negroponte addressed the importance of Hugo Chavez's legacy: a charismatic and politically savvy leader committed to the redistribution of oil revenue through social welfare programs that sought to target health, education, and housing. She also discussed his commitment to helping his Latin American and Caribbean neighbors through oil subsidies. Negroponte questioned whether Chavismo is sustainable under President Maduro. She highlighted Maduro's lack of charisma and political knowledge, as well as the decline in oil production under his administration due to mismanagement and lack of investment. As a result, Maduro was forced to reduce oil subsidies, while still paying large debts to Cuba and China totaling: 104,000 barrels per day and 200,000 barrels per day respectively.

Negroponte also talked about the current economic and political turmoil in Venezuela. Since February 12th, widespread protests have left 29 people dead and over 1,600 incarcerated. She also emphasized the flagrant human rights abuses, noting the kidnapping of the Mayor of San Cristobal and the arrest of prominent opposition leader, Leopoldo Lopez. In addition, inflation is spiraling out of control—with estimates between 45% and 56%—while the scarcity of goods is so severe that basic food products are difficult to attain. She suggested that the current economic stagnation will have adverse effects on the private sector, oil subsidies, redistribution programs, and the working class. Negroponte particularly noted the growing levels of dissatisfaction amongst the working class, which provides the majority of Maduro's support, due to rising levels of inflation, scarcity, and violence.

Negroponte stressed that a Venezuelan national dialogue is the only viable solution to the ongoing turmoil, but that it cannot exist without building trust between the government and opposition. In order to bring the opposition to the negotiating table, Negroponte believes the government should cease kidnappings, unlawful arrests, and abuse of power. While the future is not clear, it is evident that Maduro's opponents will not wait patiently for positive change.

Diana Villiers Negroponte addresses the WFPG


WFPG President Patricia Ellis, Diana Negroponte, and
DCM Marsha Coore-Lobban of Jamaica

Patricia Ellis welcomes guests

Regzeida Gonzalez of the Embassy of Venezuela

Ambassador Subhas-Chandra Mungra of Suriname

Donna Constantinople asks a question

Patricia Cortes of the Embassy of Colombia
makes brief comments

WFPG Corporate Advisory Council Member Rachel Bohn
of McLarty Associates asks a question

DCM Marsha Coore-Lobban of Jamaica

Kay Larcom of Conoco Phillips