The New Sectarianism:
The Arab Uprisings and the Rebirth of the Sunni-Shia Divide
Author Geneive Abdo
Photos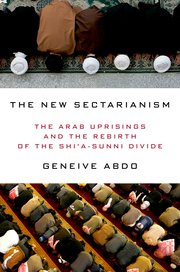 Washington, DC—On January 9, 2017, Genieve Abdo, senior fellow at the Rafik Hariri Center for the Middle East at the Atlantic Council and author of several books on political Islam and the MENA region, spoke about her new book, The New Sectarianism: The Arab Uprisings and the Rebirth of the Shia-Sunni Divide. She provided audience members with an alternate view of the region, asserting that there is a need for the West to view today's regional turmoil through the lens of religion as opposed to geopolitics. The discussion was moderated by WFPG Associate Director Kim Kahnhauser Freeman.

Abdo examines how religious identity has become increasingly important in the wake of the Arab uprisings and why that has escalated the Shia-Sunni conflict, as well as conflict between Shia factions. In discussing her book, Abdo asserted that the uprisings, which began largely as a secular unifying call to overthrow a repressive regimes, have devolved into an increasingly polarizing religious movements. She explained that the vacuum caused by "the collapse of the nation state has paved the way for extremism that we hadn't seen before." She underlines that the escalation in violence is the result of factions trying to assert there their interpretation of Islam is the one "sacred and true" interpretation.

On the role of social media, Abdo worked with a researcher to track the accounts of several Salafists—many of whom have millions of followers—and determined that the majority were political or utilitarian in nature, not theological. She explains that the accounts incite anxiety and fear among Sunnis by exaggerating and exacerbating the perception of the Iranian influence in the Arab world. Social media has expanded the network and the conversation across national borders, increasing its influence. Abdo also shared that many of the Salafists she interviewed tended to be exponentially more aggressive on twitter than they are in person, to the point of denying that they sent particularly incendiary messages.


Author Geneive Abdo
speaks to the WFPG



WFPG Associate Director Kim Kahnhauser

Freeman and

Genieve

Abdo





Kim Kahnhauser Freeman
moderates the conversation



WFPG Leadership Circle Member
Karen St. John listens to the discussion







Marina Ottoway of The Wilson
Center makes a comment



Randa Masri of ConnectME
asks a question