ANNOUNCEMENT
WFPG Welcomes New Co-Chairs!


The Women's Foreign Policy Group is pleased to announce that Ambassador Cathy Russell and Lois Romano have been elected to co-chair the Board of Directors of the Women's Foreign Policy Group. They succeed Gail Leftwich Kitch.
---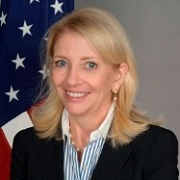 Ambassador Catherine M. Russell served as Ambassador-at-Large for Global Women's Issues from August 2013 to January 2017. In this position, Russell led the State Department's efforts to advance gender equality and the empowerment of women and girls around the world. Prior to assuming this position, she served as Deputy Assistant to the President and Chief of Staff to Second Lady Jill Biden focusing on military families and higher education. During her tenure at the White House, Russell coordinated the development of the Administration's strategy to prevent and respond to gender-based violence globally. Russell previously served as a Senior Advisor to the Senate Foreign Relations Committee on international women's issues. During the Clinton Administration, she served as Associate Deputy Attorney General. Russell also served as Staff Director of the Senate Judiciary Committee and Senior Counsel to Senator Patrick Leahy. She received a BA in Philosophy from Boston College and a JD from George Washington University.


---
Lois Romano has had a distinguished career as a political journalist at The Washington Post, Newsweek and POLITICO. She now serves as a strategic advisor at the Institute of Politics at Harvard University. Romano was most recently the editor of Washington Post Live, the news organization's editorial events platform. In early 2015, she returned to the Post where she had a long career as a political correspondent and profile writer. Previously, she was a senior political reporter and the first editorial director of POLITICO events. She had been instrumental in shaping live editorial programming and content for the organization's dozens of issue-driven events. During her first career at the Post, she covered seven presidential races, served as a columnist, and was a regional correspondent based in Tulsa. Romano serves on the board and on executive committee of the International Women's Research Center. She holds a Masters degree in international relations from the Elliott School of International Affairs at George Washington University.