YP Network Cocktails & Careers: Should I go to law school?
Thursday, September 17, 2020
,
6:00 PM
-
7:00 PM EST
Category: Events
---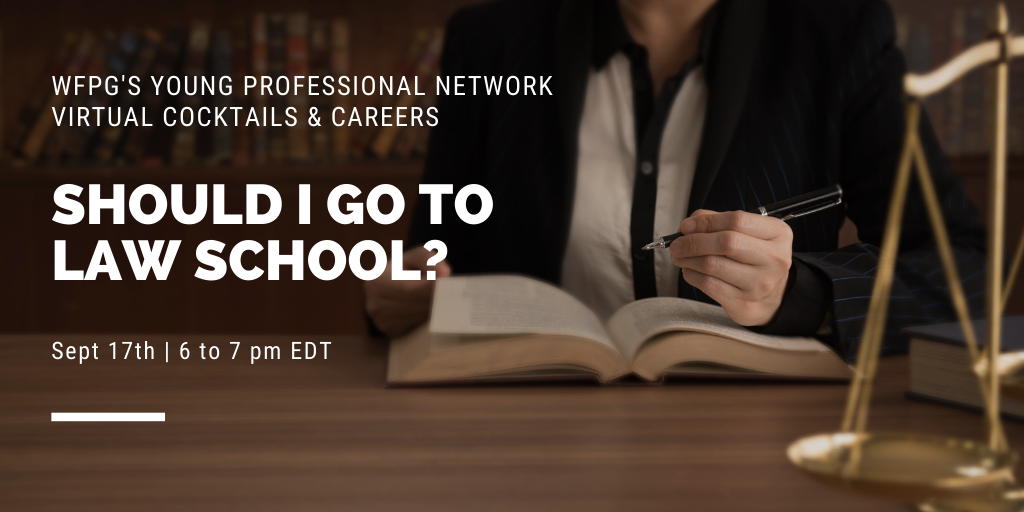 Thinking about going to law school? Should you work first? What is the application process like? How do you choose where to go and what to study? What should you know before you apply?
Megan Bright is currently a second-year law student at Berkeley School of Law specializing in immigration and civil rights law. She graduated from University of California, San Diego in 2017, with a BA in Political Science and a minor in German Studies. Megan worked as a legal receptionist at a law firm while studying for the LSAT and applying to law school. During her time at Berkeley she has volunteered for the Reproductive Justice Project, edited articles for the Berkeley Journal of International Law, and interned with Legal Assistance for Seniors. This Fall she is interning with East Bay Community Law Center's Immigration Department.
Kelly Recker graduated from UCLA in 2011 with a degree in Political Science. After interning at WFPG, she worked as a legal assistant focused on intellectual property at a large law firm in DC. After two years, she moved back to her hometown of San Diego and worked at a non-profit that advocated for foster youth in court, where she realized that she wanted to go to law school. During that time she also volunteered as an on-call sexual assault victim advocate, where she learned more about supporting clients in difficult circumstances. She is now in her second year at the University of Michigan Law School, and has spent the past summer interning at a local public defender's office (NDS Detroit).
Archana Vasa is a third-year student at Columbia Law School, where she was a staff member of the Journal of Transnational Law and a Student Editor of the Foundation Moot Court Program. She is currently spending the fall semester as a judicial intern at the United States Court of International Trade. During her time in law school, Archana was a Summer Fellow at Reprieve in London, where she worked on the Stop the Lethal Injection project. She was also a Summer Associate at Arnold & Porter. She graduated in 2017 from George Washington University with a BA in International Affairs.
Moderator: Kristen Folkerts, WFPG DC YP Network Co-chair
YP Network Members: Registration for this event is now closed

Not a member? Learn more about the YP Network | Join the WFPG
YP Network career chats and roundtables are open to all WFPG young professional and student members. Questions? Email us at [email protected]
---