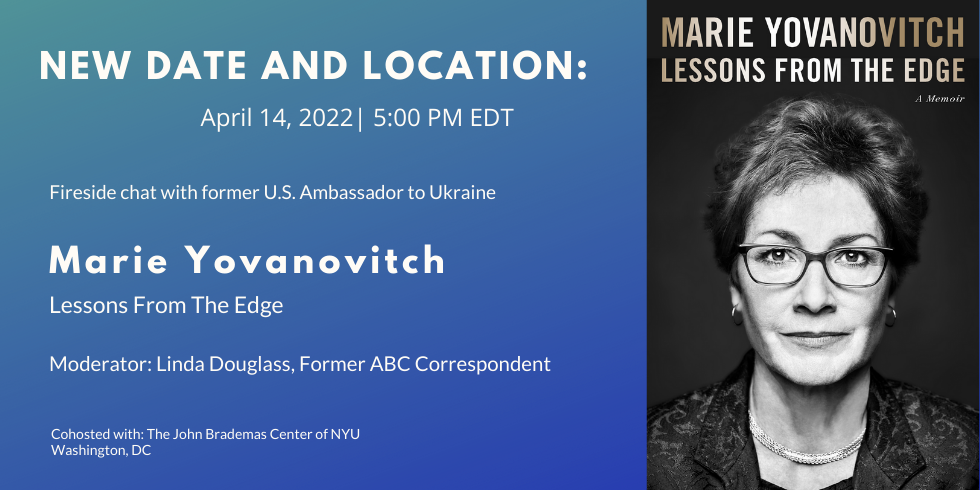 Join WFPG on April 14th, for an Author Series conversation with Ambassador Marie Yovanovitch and moderator Linda Douglass. In LESSONS FROM THE EDGE, Yovanovitch offers a riveting inside account of the events leading up to the first impeachment trial of Donald Trump. But her memoir is also a deeply personal story of struggle, patriotic idealism, and a life dedicated to advancing the interests of the American people. She powerfully argues for welcoming integrity back into our politics and diplomacy, and for ensuring that the State Department remains nonpartisan. And in a forward-thinking epilogue, Yovanovitch reflects on the impact of the January 6 insurrection at the Capitol, the Covid-19 pandemic, and the lasting damage of President Trump's assault on facts, truth, and the press. As dictators around the globe bet on continued divisions in the U.S., Yovanovitch warns of the urgency of "getting our house in order" to renew our democracy and engage with the world to advance our interests. 


 Ambassador Marie Yovanovitch, Author and Former U.S. Ambassador to Ukraine
 Linda Douglass (Moderator), Journalist
---

EVENT REGISTRATION HAS NOW CLOSED

Thursday, April 14, 2022
Check-in: 5:00 PM to 5:15 PM ET
Cocktail Reception: 5:15 PM to 6:00 PM 
Fireside Chat: 6:00 PM to 7:00 PM
Virtual Webinar: 6:00 PM to 7:00 PM
Book Signing / Book Sale: 7:00 PM to 7:30 PM


The John Brademas Center of NYU, Washington DC
1307 L Street, NW, Washington, DC 20005
Please note that this is a hybrid event, being offered in-person and virtually. Please click on the registration link above and select an option.


 In-Person Tickets: Members/Guests: $35 | Student/YP Members: $15
Can't join us in person? Virtual access: $10.
WFPG will be donating all contributions and partial ticket sales raised from this event towards supporting charities on the ground in Ukraine. 
---
Ambassador Marie L. Yovanovitch (Ret) is a Senior Fellow at the Carnegie Endowment for International Peace and a non-Resident Fellow at the Institute for the Study of Diplomacy, Georgetown University. Previously, she served as the U.S. Ambassador to Ukraine (2016-2019), the Republic of Armenia (2008-2011) and the Kyrgyz Republic (2005-2008). She also served as the Dean of the School of Language Studies at the Foreign Service Institute, U.S. Department of State and as the Deputy Commandant and International Advisor at the Dwight D. Eisenhower School for National Security and Resource Strategy, National Defense University.

Earlier she served as the Principal Deputy Assistant Secretary for the Bureau of European and Eurasian Affairs, where she coordinated policy on European and global security issues. Before that, she was the bureau's Deputy Assistant Secretary responsible for issues related to the Nordic, Baltic, and Central European countries. In 2003-2004, Ambassador Yovanovitch was the Senior Advisor to the Under Secretary of State for Political Affairs. Prior to that, she was the Deputy Chief of Mission of the U.S. Embassy in Kyiv, Ukraine. Within the Department of State, Ambassador Yovanovitch has worked on the Russia desk, the Office of European Security Affairs, and the Operations Center. She has also worked overseas at the U.S. Embassies in Moscow, London, Ottawa, and Mogadishu.

A Career Member of the Senior Foreign Service, Ambassador Yovanovitch has earned the Senior Foreign Service Performance Award eight times and the State Department's Superior Honor Award on nine occasions. She is also the recipient of two Presidential Distinguished Service Awards and the Secretary's Diplomacy in Human Rights Award. In 2020, Georgetown University granted Ambassador Yovanovitch the Trainor Award for Excellence in the Conduct of Diplomacy, the University of Indiana granted her the inaugural Richard G. Lugar Award, and Pen America honored her with the 2020 PEN/Benenson Courage Award. In 2021, she received the Morgenthau Award from the Armenian Assembly of America. Ambassador Yovanovitch is a graduate of Princeton University where she earned a BA in History and Russian Studies. She studied at the Pushkin Institute and received an MS from the National Defense University.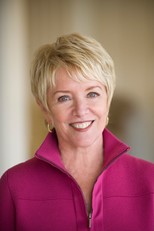 Linda Douglass (moderator) is a veteran political journalist who was the Chief Capitol Hill Correspondent for ABC News from 1997 to 2006, winning various awards, including the 2000 National Press Foundation's Everett Dirksen Award for Excellence in Covering Congress. Prior to joining ABC News, Douglass was a Washington D.C.-based correspondent covering government and politics for CBS News.  She began as a reporter in Los Angeles and covered six presidential campaigns over her long career.

After leaving journalism, Douglass went to work for Barack Obama, serving as a traveling spokesperson in his 2008 presidential campaign and, later, as the Director of Communications in the White House Office of Health Reform. Following the passage of the Affordable Care Act, she joined Atlantic Media as the Senior Vice President for Global Communications, managing messaging for all divisions of the company, including The Atlantic, National Journal Group, Quartz, and Atlantic Media Strategies. Douglass left there to join her husband, John Phillips, in Rome while he served as President Obama's U.S. Ambassador to Italy.  When she returned to the U.S., she became the Global Head of Communications for Bloomberg News and Media, where she oversaw strategic communications for news, events, and business initiatives for Bloomberg News and Media worldwide. Douglass currently works as a communications consultant, providing clients with a variety of services, including strategic planning, assessment of existing communications operations, recommendations for proactive messaging, and short-term crisis communications. 


---
This program is being held in partnership with: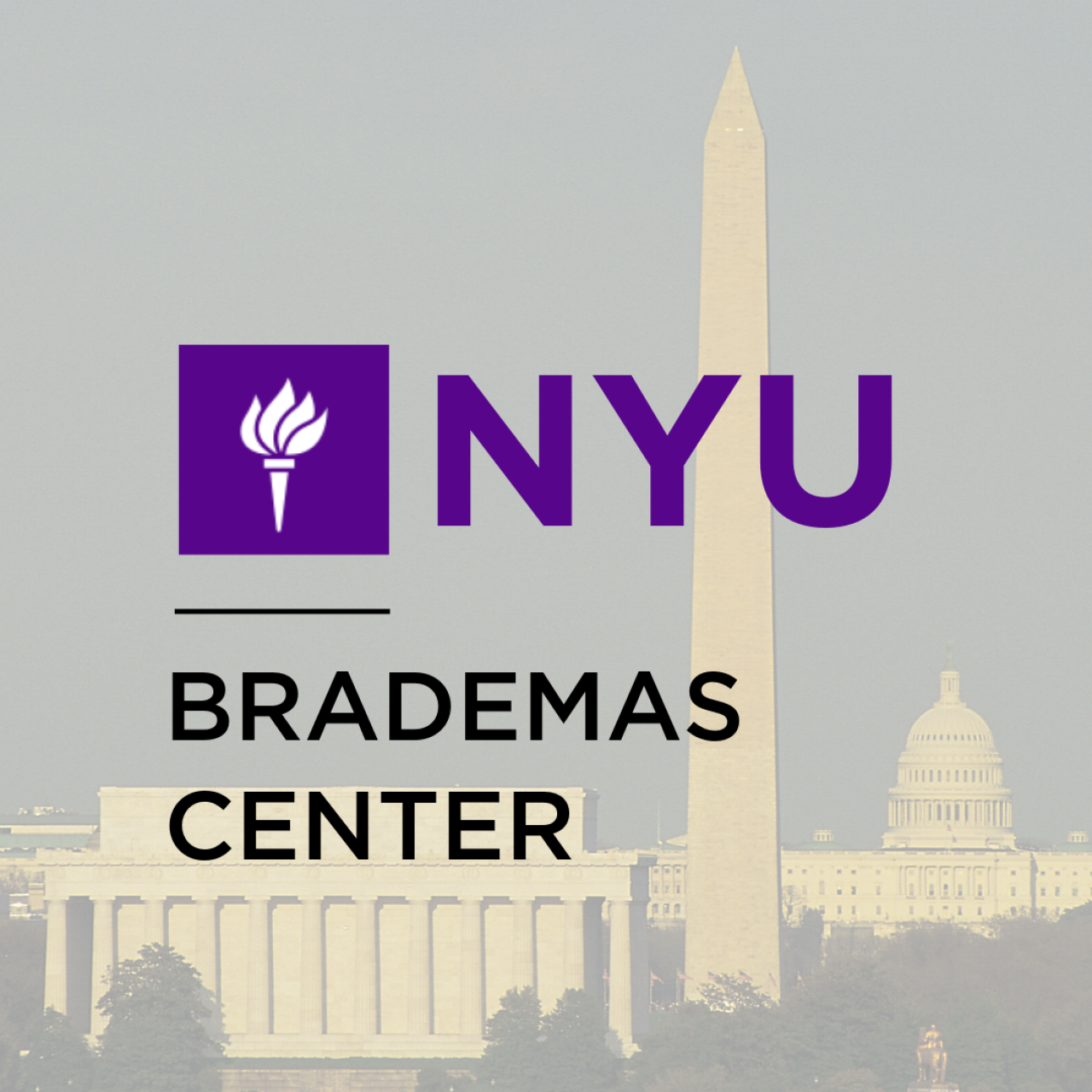 ---
The Women's Foreign Policy Group is a non-partisan organization committed to promoting women's leadership and voices in international affairs through in-depth global issues programming and mentoring. Not a WFPG member? Get engaged with our programming and events:
Join | Donate | Give a gift membership

Please direct any questions to [email protected].