Virtual | Mentor Minutes: Anita Botti
Thursday, April 27, 2023
,
3:30 PM
-
4:30 PM EST
Category: Events
---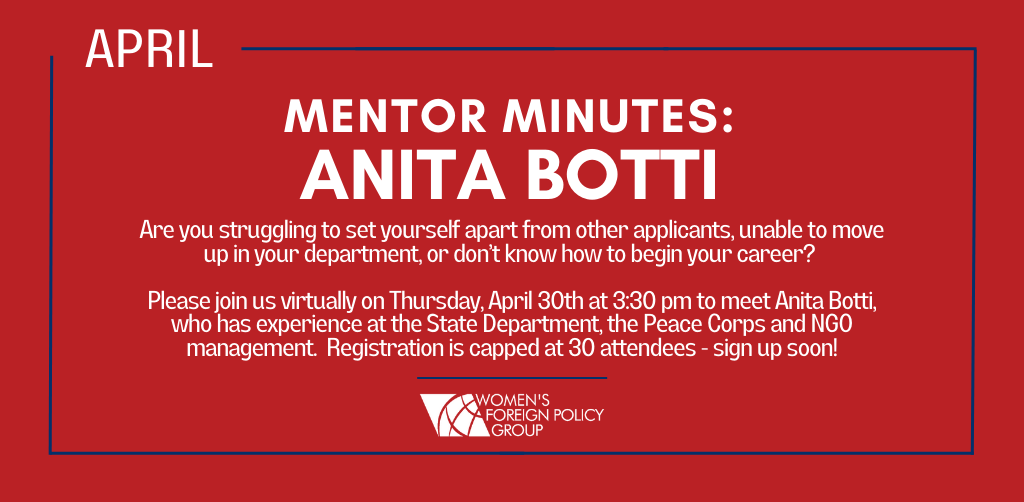 ---
Are you just starting out a career in international affairs? Are you exploring different pathways but unsure how to get there or are you looking for tips and tricks on how to land your dream job? Join the Women's Foreign Policy Group for our monthly Mentor Minutes! On every last Thursday of the month at 3:30 pm EST, WFPG Student and Young Professional members will get a chance to speak to an experienced mentor in international affairs in a small-group setting. These intimate conversations will allow Student and Young Professional members to interact with women leaders across various sectors.
WFPG believes that mentorship is crucial for the next generation of women leaders to develop confidence and discover the tools they need to succeed. Mentor Minutes are a unique opportunity for students and young professionals to broaden their network among mentors and colleagues alike in a small-group setting. Members will gain insight on upcoming career decisions, learn more about tailoring applications to particular organizations and sectors, and hear directly from those in the field who have unparalleled experience to share.
Not a member, but would like to join Mentor Minutes? Join today! WFPG is committed to strengthening networking connections for students and young professionals across all sectors. Beginning a career in international affairs can be incredibly difficult without support and access to resources. As a WFPG member, not only are you invited to attend Mentor Minutes, but you also receive complimentary admission to all other in-person and virtual professional development and mentoring programs, such as our Career Pathways. Additionally, you will gain access to exclusive member experiences and opportunities.
WFPG Student and Young Professional membership is $60. Other membership types are available here.
Memberships are valid for one full year.
---
A conversation with:
Anita Botti, Treasurer of the Women's Foreign Policy Group Board of Directors.
---

Thursday, April 27, 2023 | 3:30 PM ET
Virtual Event - Attendees will receive the Zoom link once they completed the registration form.
---
Registration is now closed. Please fill out this

form

to be placed on the waitlist.
---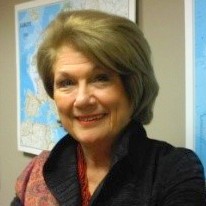 Anita Botti continues to participate as a consultant in foreign policy venues. From January 2018 - January 2020, Ms. Botti served as the Interim Executive Director of the Exodus Institute, an NGO that mobilized private and international sector resources to address the forced migration crisis. Ms. Botti served for twenty-five years at the U.S. Department of State in roles of increasing responsibility. From 2009-2014, she served as Chief of Staff to the first-ever Secretary of State's Office of Global Women's Issues. Previously, she served as a Legislative Liaison Officer in the Department's Bureau of Legislative Affairs and developed and served as the first Congressional Coordinator for the Bureau of Economic and Business Affairs and for the Under Secretary for Economic and Business and Agricultural Affairs. In 1997, Ms. Botti was seconded to President Clinton's Interagency Council on Women and served as Chair of the U.S. Interagency Task Force on Trafficking in Human Beings. As Chair, Ms. Botti developed, coordinated, and promoted the Department's anti-trafficking strategy and policies. As Chair, Ms. Botti worked closely with Congress to gain bipartisan support for, and ultimate passage of, a new law entitled the "Victims of Trafficking and Violence Protection Act of 2000." Ms. Botti repeatedly represented the United States in all major domestic and international fora dealing with trafficking and other major international issues affecting women. Ms. Botti began her career at the Department of State in 1985, serving in the Bureau of Population, Refugees, and Migration. As Director of the U.S. Refugee Reception and Placement Program, she had direct oversight of the cultural orientation, admission, and resettlement of over 100,000 U.S.-bound refugees annually. Ms. Botti has worked closely with the United Nations High Commissioner's staff to develop protection guidelines and programs for unaccompanied refugee minors living in refugee camps. Before joining the Department of State, Ms. Botti served with the Peace Corps both overseas and in the U.S., starting her career as a Peace Corps Volunteer in the British West Indies from 1968-70. From 1972-76, she worked as Desk Officer for the Caribbean, and as Deputy Director for the Latin American Region. In recognition of her performance, she was selected to serve as the Director of Management at Peace Corps Headquarters in Washington from 1976-78. Ms. Botti currently serves on the executive board of the Women's Foreign Policy Group. She has also served on the board of Private Agencies Cooperating Together (PACT), a U.S. NGO working in development worldwide. She has earned numerous awards for her service, including the Department of State's coveted Director General's Cup. She holds a bachelor's degree in psychology and a master's degree in demography. Ms. Botti is married to Paul Magid.
---
The Women's Foreign Policy Group is a non-partisan organization committed to promoting women's leadership and voices in international affairs through in-depth global issues programming and mentoring. Not a WFPG member? Get engaged with our programming and events:
---