Relief, Recovery, Restabilization: Addressing the Crisis in Yemen
Tuesday, August 01, 2023
,
10:00 AM
-
11:00 AM EDT
Category: Events
---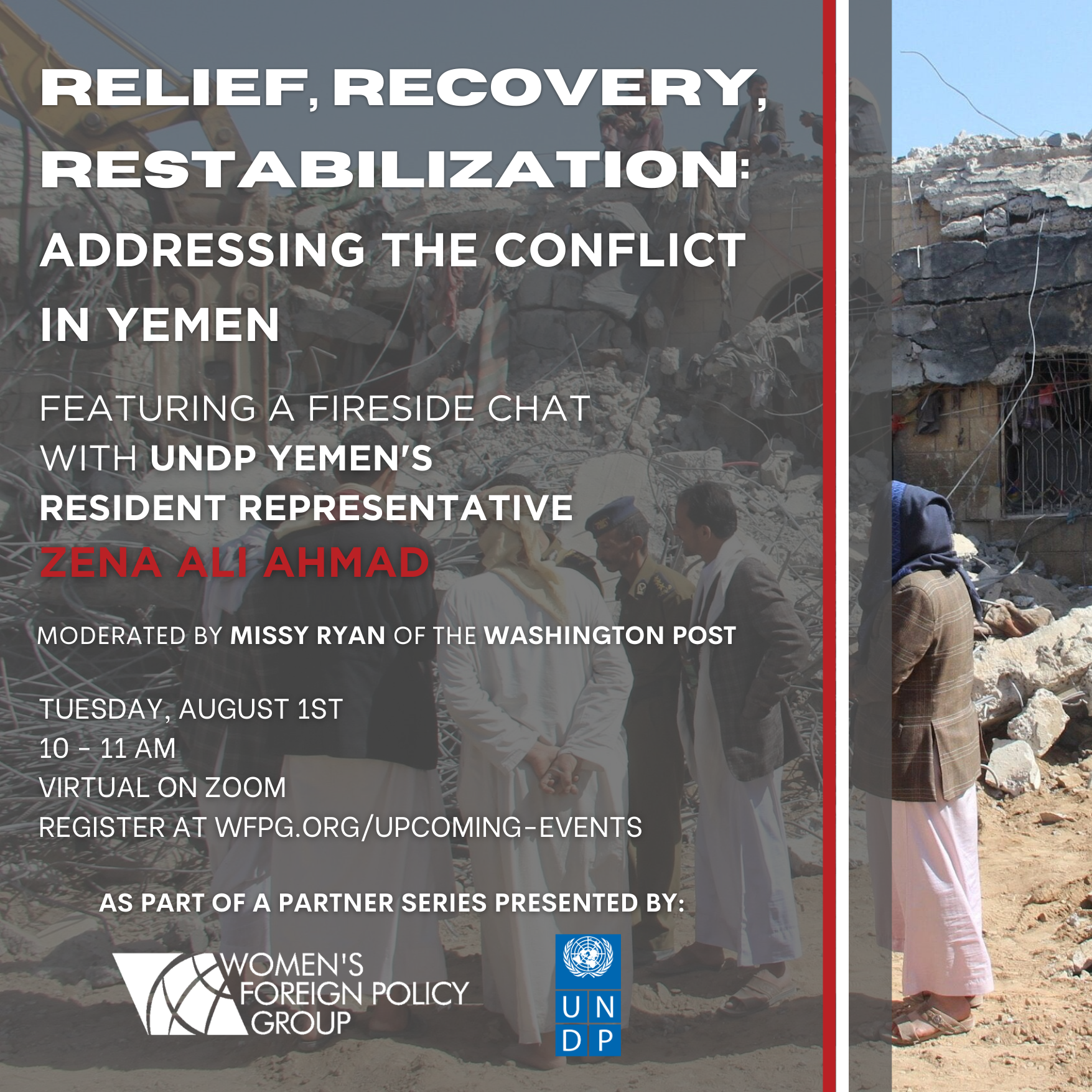 ---
For years, Yemen has been facing one of the world's worst humanitarian crises. Internal divisions have created an eight-year long stalemate, and Yemeni civilians suffer widespread disease, hunger, and conflict, creating an overwhelming dependence on humanitarian assistance to survive. Zena Ali Ahmad, Resident Representative of UNDP Yemen, joins us for an intimate fireside chat to discuss the current status of Yemen, and future prospects for resolution. Her expertise in international crisis mediation and development programs and her complex understanding of the geopolitical situation of the region offer a unique insight into the country dynamics at present, and how the international community can take steps to support the nation's pathway to peace. The audience will be given a glimpse into what it is like to work in Yemen with the UNDP. The event will be moderated by esteemed Washington Post reporter, Missy Ryan, who covers diplomacy and national security and has reported on Yemen and neighboring Arab countries.

Join the Women's Foreign Policy Group and the United Nations Development Programme on Tuesday, August 1, 2023, from 10:00-11:00 am ET, to hear from a leading expert and distinguished journalist on what the future may hold for a country long held in devastating conflict and human suffering.
This event is the first in part of an ongoing series between the Women's Foreign Policy Group and the United Nations Development Programme in Washington.
---

Tuesday, August 1, 2023 | 10:00 - 11:00 AM ET
Virtual Event - Attendees will receive the livestream link once they have completed the registration form linked below.
---
---
Ms. Zena Ali Ahmad (Lebanon) took up her role as the UNDP Resident Representative for Yemen in November 2022. Prior to this appointment, Zena was UNDP Resident Representative for Iraq (2019-2022) and the Regional Director for the Regional Office for Arab States in UN-Habitat in Egypt since 2017. She also served as UNDP Deputy Regional Hub Manager for Arab States (2016-2017), UNDP Country Director in Jordan (2012-2017), UNDP Deputy Resident Representative in Syria (2008-2012), UNDP Policy Advisor in Arab States (2005-2007), and UNDP Assistant Resident Representative in Lebanon (1996-2004). Zena holds a Postgraduate/Master's degree in the Management of Social Change from the University of London in the United Kingdom, as well as a Master's degree in Rural Development and a Bachelor's degree in Agriculture from the American University of Beirut. She speaks English, French, and Arabic.
Missy Ryan writes about diplomacy, national security and the State Department for The Washington Post. She joined The Post in 2014 to write about the Pentagon and military issues. She has reported from Iraq, Egypt, Libya, Lebanon, Yemen, Afghanistan, Pakistan, Mexico, Peru, Argentina and Chile.
---
The Women's Foreign Policy Group is a non-partisan organization committed to promoting women's leadership and voices in international affairs through in-depth global issues programming and mentoring. Not a WFPG member? Get engaged with our programming and events:
---