Career Pathways: Political Risk
Tuesday, August 22, 2023
,
3:30 PM
-
4:30 PM EST
Category: Events
---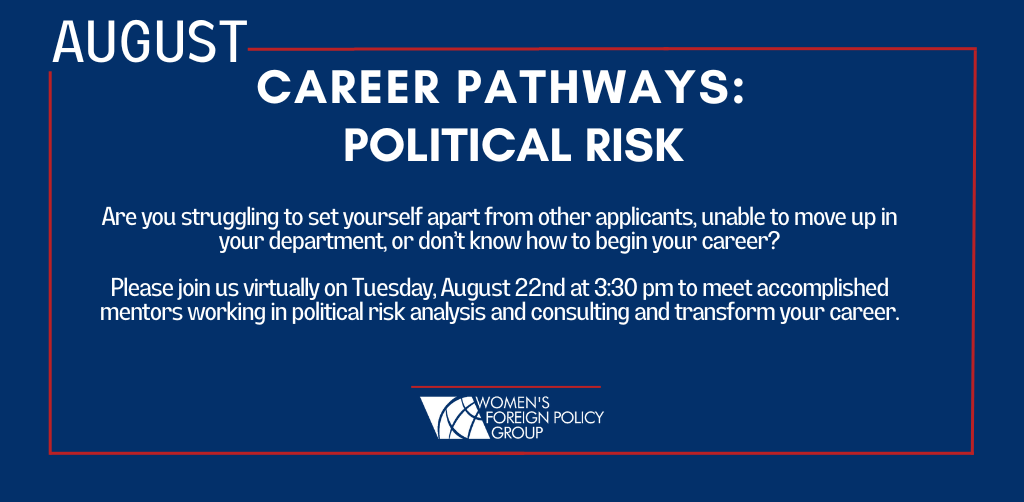 ---
Join us on August 22nd at 3:30 pm to learn more about careers in political risk and consulting!
Please join us on Tuesday, August 22nd at 3:30 PM to meet accomplished mentors working in political risk and consulting.
Are you struggling to set yourself apart from other applicants, unable to move up in your department, or don't know how to begin your career? Join WFPG for our Career Pathways! These member-exclusive monthly online events feature women leaders in a variety of international affairs fields to help answer your questions. Each month, WFPG will feature a new group of speakers to talk about their chosen career paths, how they got there, and any advice they have for someone interested in the industry. Whether you are a student with a heavy workload, a young professional navigating your new life, or an experienced employee who wants to revamp their resume, Career Pathways is the resource for you. Potential Career Pathway topics include foreign service, human rights, international development, climate, public health, and more! Please join us on each third Tuesday of the month at 3:30 PM to meet these impressive mentors and transform your career.
With a network of over 21,000 individuals, the WFPG has unparalleled connections in all foreign affairs fields. Whether you aim to work with non-profit organizations, the public sector, or private companies, there will be a Career Pathway that fits your goals. As women, it is essential to have others who uplift you in these fields, and WFPG's Career Pathways are the beginning of finding the right mentor for you. Our mentors strive to help the next generation of women leaders succeed. Career Pathways are open to all WFPG members and we encourage our Student and Young Professionals Members to join.
Interested in attending Career Pathways, but not a member? No problem! We have a variety of different membership levels to fit your needs. As a WFPG member, not only are you invited to attend Career Pathways, but you also receive complimentary admission to all other in-person and virtual professional development and mentoring programs, such as our Mentor Minutes. Additionally, you will gain access to exclusive member experiences and opportunities.
WFPG Student and Young Professional membership is $60. Other membership types are available here.
Memberships are valid for one full year.

Tuesday, August 22, 2023 | 3:30 PM ET
Virtual Event - Attendees will receive the Zoom link once they have completed the registration form linked below.
---
The Women's Foreign Policy Group is a non-partisan organization committed to promoting women's leadership and voices in international affairs through in-depth global issues programming and mentoring. Not a WFPG member? Get engaged with our programming and events:
---