APEC Summit Preview
Wednesday, November 01, 2023
,
8:30 AM
-
10:30 AM EST
Category: Events
---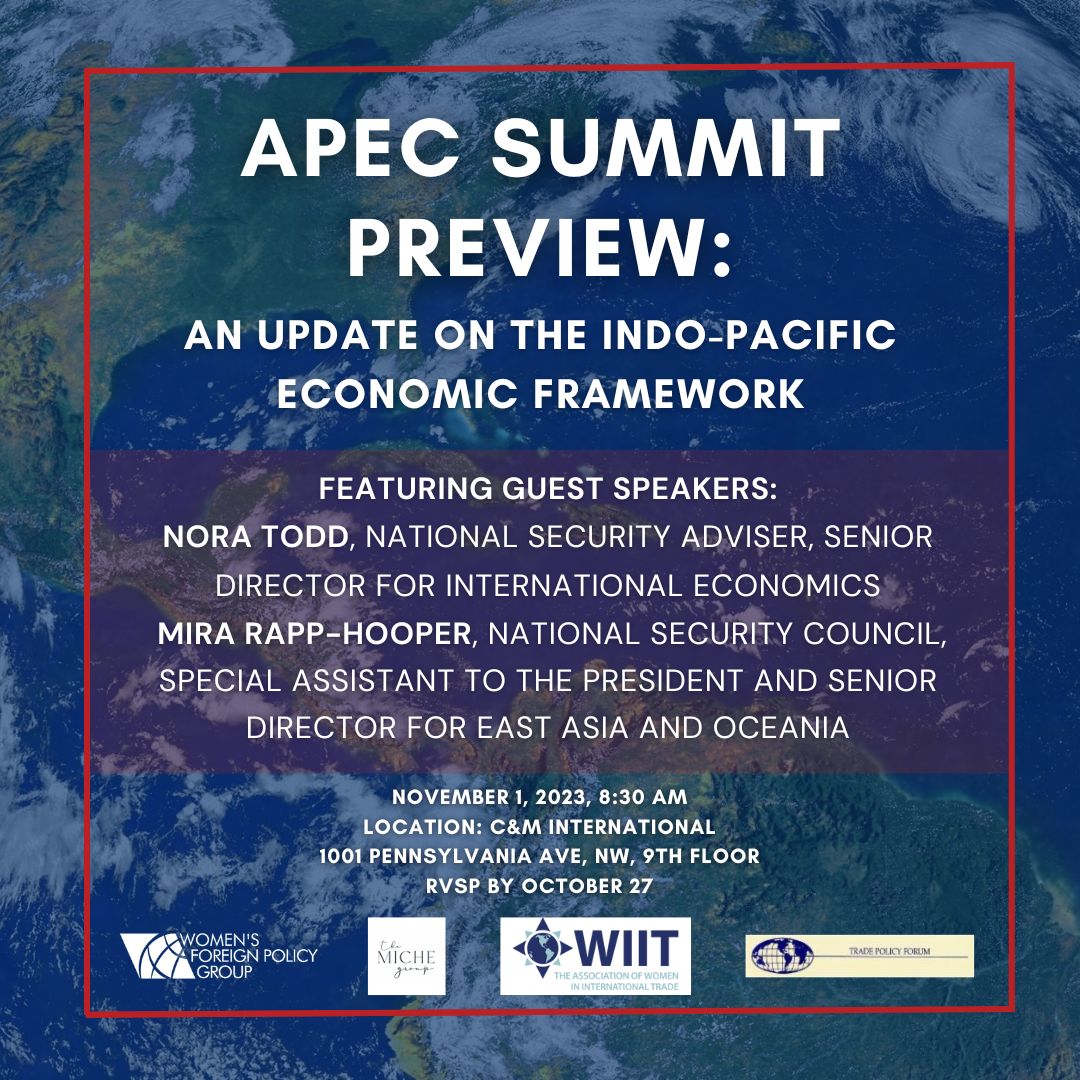 Please join the Women's Foreign Policy Group, The Association of Women in International Trade, The MICHE Group, and the Trade Policy Forum for a preview of the APEC Summit and an update on the Indo-Pacific Economic Framework. We look forward to welcoming you on Wednesday, November 1st at 8:30 AM EST in Washington, D.C. for an exclusive opportunity to preview the upcoming APEC Summit, which will occur on November 15-17 in San Francisco, California.
This event will feature Nora Todd, National Security Adviser, Senior Director for International Economics, and Mira Rapp-Hooper, National Security Council, Special Assistant to the President and Senior Director for East Asia and Oceania. This event will be conducted under Chatham House rule and is closed to press. This event is open to WFPG members only. Space is limited. Register today to reserve your seat!
Interested in attending but not a member? No problem! We have a variety of different membership levels to fit your needs. As a WFPG member, not only are you invited to attend events like this, but you also receive complimentary admission to all other in-person and virtual professional development and mentoring programs, such as Career Pathways and Mentor Minutes. Additionally, you will gain access to exclusive member experiences and opportunities.
Membership types are available here.
Memberships are valid for one full year.
---
Date:
Wednesday, November 1st 2023 | 8:30 AM ET
Location:
C&M International, 1001 Pennsylvania Ave, NW, 9th floor
Washington, DC, 20003
---
---
The Women's Foreign Policy Group is a non-partisan organization committed to promoting women's leadership and voices in international affairs through in-depth global issues programming and mentoring. Not a WFPG member? Get engaged with our programming and events:
---