VOICES, is a forum that highlights the expertise of those who make up and support the organization. WFPG members and partners are invited to submit blog posts on international affairs and foreign policy topics, women's leadership, and career advancement. Posts represent the reflections and personal views of members and guest bloggers and not those of their employers or of the WFPG. Interested in submitting a post? Guidelines | Membership
The Cost of Care




Ainab Rahman, WFPG Generation Equality Forum Youth Engagement Chair

As a recent graduate, you might be wondering how you're going to enter the workforce and join a diverse team with many ages, backgrounds, and (let's face it) comfort levels with technology. Now that you've landed the job, it's time to think about what happens next. You need to consider what role you'd like to play in your new organization. There are a series of steps you can take to become an essential, invaluable member of the team who others will trust and want to work with.
Here are 10 tips for what to do and what not to do to succeed at your first job.
Do
Keep your eyes open. When you're a new employee, you have a lot to learn. Stay alert and gather as much information as possible. You're likely to learn fastest through osmosis.

Tend toward formality (at first). You should aim to be formal in your early professional interactions. This could mean anything from dress code to email etiquette. You may find your workplace is pretty casual, but still, you should demonstrate that you're capable of professionalism.

Ask questions. Speak up quickly ifyou're confused about a rule or assignment. Remember, a sign of maturity is recognizing your own limitations and knowing when to ask for help.

Be a team player. You want to be known as someone who will not only get the job done (and do it well), but is ready to go the extra mile. That means being aware of what's happening across the organization, anticipating potential problems, and fulfilling a need without being asked. This is often what distinguishes a good employee from a great one.

Take initiative. You want others to recognize your ambition. When possible, pursue opportunities or projects—outside of those you're tasked with—that interest you. This also signals to leadership that you're committed to professional growth and finding your passion.
Don't
Get hung up on your mistakes. The most successful professionals are the most resilient; they recognize that failures, on any scale, are crucial to personal growth. When you make a mistake, it's important to reflect on that experience and assess what you could have done differently. Ask for feedback on how to improve, then move on.

Talk before you listen. Rather than speak out of nervousness or habit, pause. You don't have to fill every silence! Listen first and think carefully about what you want to say. Allow yourself the time to process what you've seen and heard and you'll form smarter questions and observations.

Have a bad attitude. Enthusiasm is one of the most important qualities you can bring to the table. This includes accepting the fact that no task is beneath you. For example, at times you may be asked to get coffee or run an errand. Treat these assignments as a necessary part of the job that keep the team moving forward. Be the person that boosts morale by always maintaining a positive attitude and prove that you're a team player.

Overshare. Resist the urge to tell your coworkers too much about your personal life and be careful not to overstep professional boundaries. Save those conversations for happy hours. Also, be mindful of who you connect with and what you post on social media.

Be late. Tardiness is noticed. One of the easiest ways to show you're committed to the job is to be on time (which means 5–10 minutes early!)
When you start your first job, one of your top priorities should be making yourself an asset to the team. Be the person that others can depend on—someone who invests the time needed to help the organization achieve its goals, accepts any task or additional responsibility, and importantly, someone who shows up with a positive attitude, always ready to contribute. If you establish this reputation for yourself, you'll develop trust with leadership and bonds with your colleagues. It will be these connections that you leverage to secure your next job and advance your career.
Miriam Roday is a researcher at the Institute for Defense Analyses where she focuses on Russia, digital disinformation and Transatlantic security. She began her career at 19 in the U.S. Senate and has since held positions across the public and private sectors, including with NGOs, congressional committees, political campaigns, and research institutions.


Like gender inequality, climate change is an issue that touches every person and corner of the planet. The overlap between issues of gender and climate are significant, as climate intervention frameworks often fail to consider the unique needs of women and girls. As long as women and girls remain underrepresented in all levels of all sectors related to climate justice, this will continue. One group of women that are especially marginalized from climate justice, despite having always been at the forefront of the movement, are Indigenous women. For example, in Cambodia, Laos, Myanmar and Vietnam, the loss of customary self-governance, combined with a lack of access and representation in political institutions, has prevented indigenous women from participating in decision-making forums on climate change.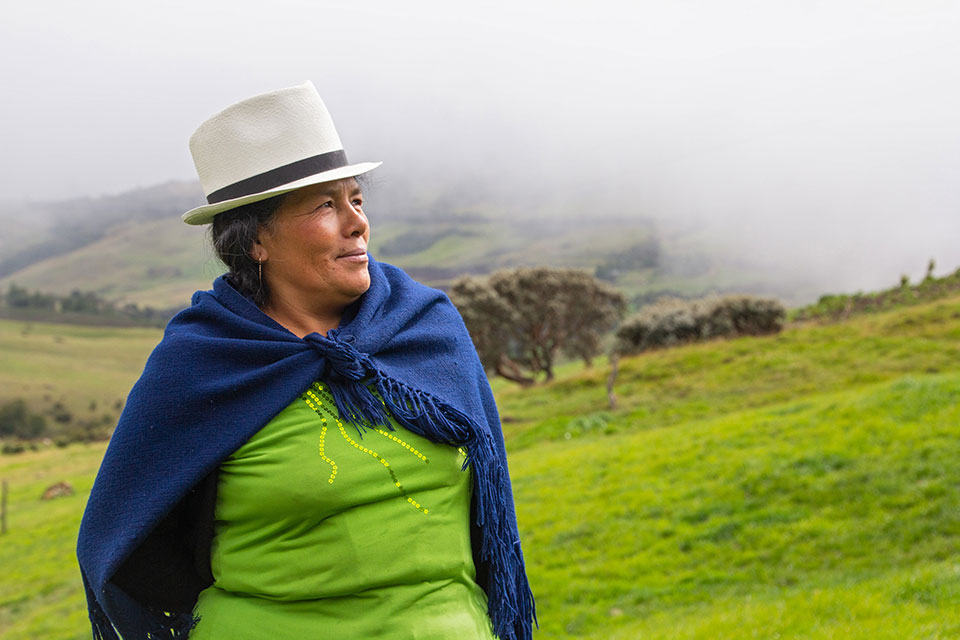 Zoila Dolores Piedra Guamán is a farmer and homemaker from Puculay, in the Azuay province. Image Source
Indigenous female leaders bring a critical perspective on combating the climate crisis. As stewards of the land and custodians of traditional knowledge, they challenge the Eurocentric, capitalist, and individualistic models of mainstream development and conservation. Philosophies such as Buen Vivir ("good living" in English), based on the practices of the Quechua, Shuar, Aymara and Guarani peoples, is rooted in the cultivation of a harmonious relationship between people and nature to ensure mutual care. To put it simply, when people take care of the planet, the planet takes care of them. According to Buen Vivir, the Earth is not—and never has been—a commodity from which humans can extract resources. By framing the land as an entity deserving of care and rights, indigenous communities have been able to exist sustainably for thousands of years.
The devotion to care is what drives the climate activism of many indigenous women. For many female indigenous climate activists, they have a shared struggle with Mother Earth—or the pachamama, as she's often called in Latin America—due to the multifaceted oppression from patriarchal, colonial, and capitalist forces. The connection between women and the pachamama as a creator and caregiver often drives their work. This notion makes feminism and environmental activism inseparable for activist Lola Cabnal, of the Mayan Q'eqchí in Bolivia: "One thing complements the other. Just as we women can be mothers and breastfeed our children, so is our cosmo, our environment that feeds us and [nourishes us]. We call the planet, our Mother Earth, because it gives us food and drink." In many cases, women are the last ones left standing defending the land. In the Ecuadorian Andes, women of the Nazari, Puculcay, Morasloma, Bayán, and Hornillos tribes have been the frontline defense against the desertification of the páramo ecosystem. The majority of men in the community have abandoned the barren land, leaving the women in the community to revitalize the landscape in addition to raising their families.
Promoting the leadership of indigenous women is central to ensuring the social impacts of climate change are holistically addressed. Indigenous communities are adversely impacted by the climate crisis. As a result of extractivist industries, such as mining, agri-business, and fossil fuels, indigenous women have higher rates of respiratory diseases, miscarriages, and birth defects. They are at greater risk of being displaced from their home.
Particularly in Latin America, female environmental and indigenous activists are at extremely high risk of being the victims of threats, bullying, judicial harassment, illegal surveillance, forced disappearances, blackmail, sexual assault and murder by the state, corporations, or paramilitaries. If these unique risks are not addressed, we cannot achieve climate justice. Conversely, when indigenous women are properly resourced to lead sustainable development and conservation efforts, the whole community is uplifted. Through participating in the sustainable agriculture program, women of the páramo gained leadership skills and education; which in turn promoted greater economic autonomy, the self-confidence to combat gender stereotypes, and prevented sexual violence.
Indigo Stegner is a senior at the George Washington University, majoring in International Affairs and minoring in Spanish and Cross-Cultural Communication (Anthropology). She is a Research Assistant (and former intern) at WFPG and has led their research and outreach efforts related to the Generation Equality Forum.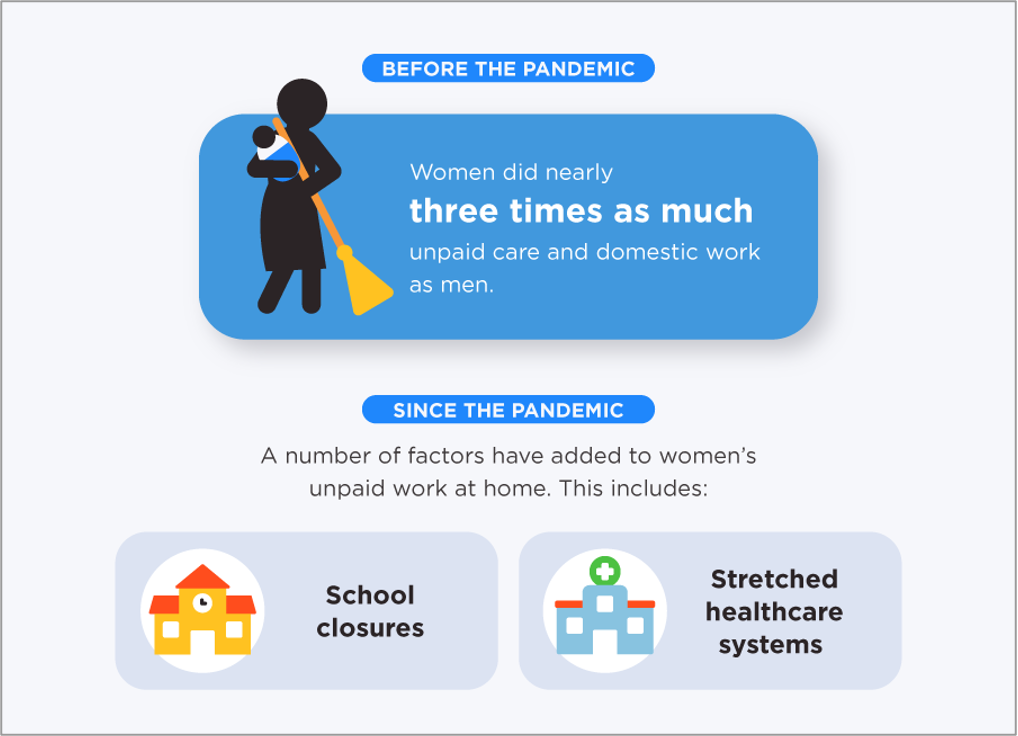 While COVID has created a global crisis of care for all countries, it has been women that have had to shoulder the burden of providing caregiving, particularly as the pandemic continues to expose the gaps and inadequacies of state-run care infrastructure and services in addressing this epidemiological emergency. Not only do women make up the majority of frontline workers, it has been women that have had to lose their career, jobs, and opportunities, to take on more care work. Women are the primary caregivers for children and the elderly around the world, a responsibility which has only intensified with COVID and the shutdown of childcare and education services, which saw 90% of children out of school. Research from UN Women shows that "women now spend nearly as much time doing unpaid care work as a full-time paid job. Women have also been forced to leave the workforce at alarming rates, rolling back progress towards gender equality." Women's unpaid labor and caregiving responsibilities are a key driver to their disempowerment compared to men, an inequality that has been further deepened by the pandemic, which has led to a recession of their hard-won economic rights and positions.
Many governments, corporations and societal organizations have taken for granted women's roles in delivering care and invisible labor, profiting at the expense of their physical, economical, emotional and psychological well-being. The pandemic has laid bare the problem with a capitalist system that has been built on the patriarchal assumption that women will undertake the bulk of care responsibilities. 9-5 work weeks, limited or no paid family leave, lack of childcare facilities for working mothers and patriarchal corporate cultures, coupled with the addition of care responsibilities due to COVID overwhelmingly penalize women
.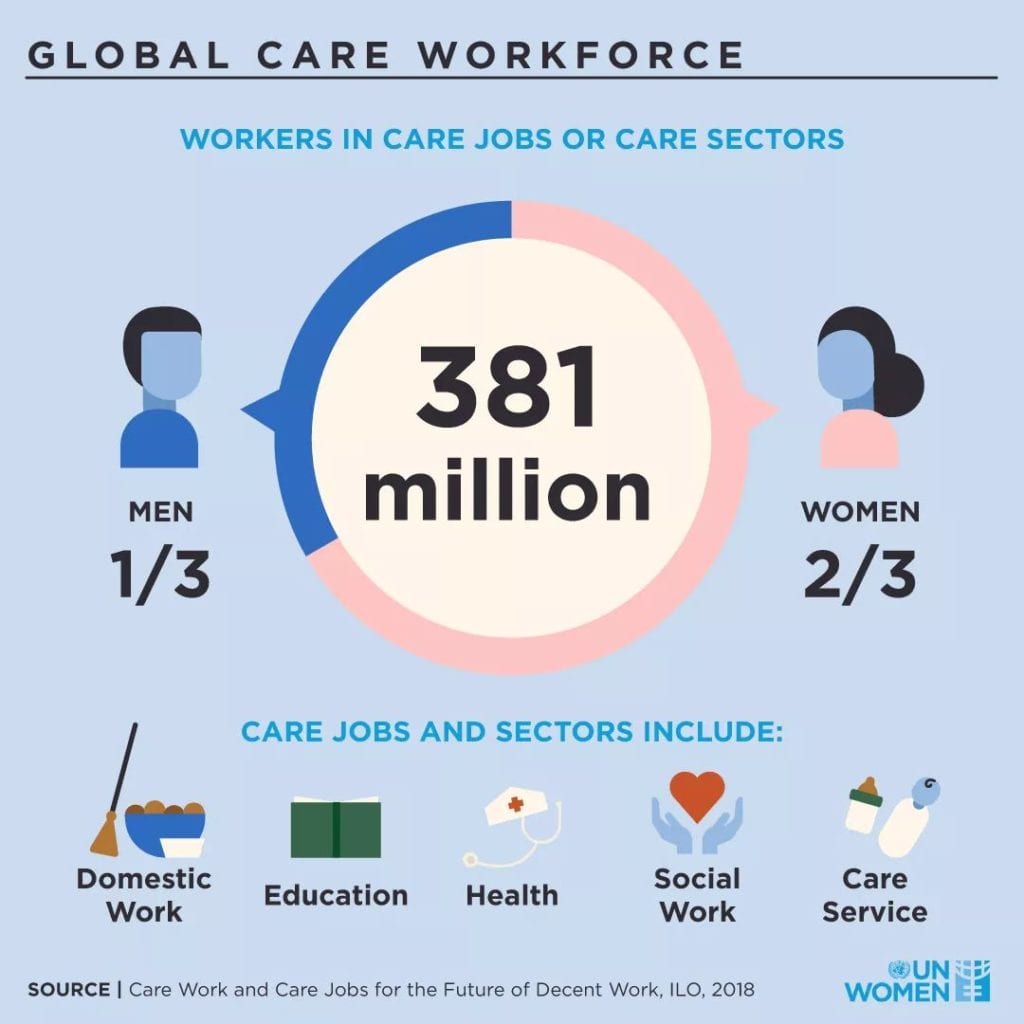 As stated by Relief Web International, "Women's ability to earn a living or live a life free from poverty was already constrained by the heavy and unequal nature of unpaid care and domestic work. Globally, even before the pandemic hit, 42% of women of working age said they were unable to do paid work because of their unpaid care and domestic work responsibilities – compared to just 6% of men". Studies also show that while unpaid and domestic care work has increased for both men and women as a result of COVID, women's health, economic security and wellbeing are disproportionately affected. The COVID pandemic has caused a parallel pandemic of women with increased anxiety, depression, burn out, isolation and physical illness due to their increased unpaid care and domestic workload, contributing towards what has recently been termed as "the female recession". According to Oxfam, "the pandemic cost women globally at least $800 billion in lost income in 2020, equivalent to more than the combined GDP of 98 countries."
At the Generation Equality Forum (GEF), COVID economies and its impact on gender equality, were at the forefront of the conversation, with participants from governments, international organizations, corporations, non-profits and civil society emphasizing the need to make pandemic responses both care- conscious and gender-responsive. GEF government commitment-makers, such as Canada, pledged $100 million to support paid and unpaid care work around the world, while other governments advocated for gender mainstreaming in national care infrastructure. Corporate commitment-makers promised to support feminist recovery through actionable policies such as creating caregiving leave for men, and encouraging them to take it. Civil society organizations, such as Promundo, highlighted the need to shift the narrative around men, boys, domestic work and caregiving as well as to enforce practices of redistributing unpaid care work.
As stated by Project Syndicate, "Investment in care has been shown to act as a better post-pandemic economic stimulus than investment in traditional economic recovery approaches. Producing significantly less emissions than many other sectors, care jobs are also green jobs. Investment in care is a win-win as it can help to build a society that is more sustainable as well as more equal."
While the GEF initiated important commitments that can start paving the way for feminist recovery, GEF coalition partners must work together to transform the global economy to center care and its related policies and infrastructure to allow for gender equality in both paid and unpaid labor. Commitment-makers must work to shift capitalist priorities from wealth to health, allocating large budgets to healthcare and social care to reflect the current needs of their populations. The GEF has made it clear that addressing the care economy is critical to women's empowerment, and that that women must stop paying the cost of care, and redistribute it for a more equitable and sustainable society.
Ainab Rahman is a gender and security practitioner, and a member of the WFPG. She currently serves as Director at a global strategic advisory and intelligence company.

As the COVID-19 pandemic continues to devastate communities around the world, the value of factual information has become abundantly clear. Disinformation campaigns, racist propaganda, and a general lack of knowledge have cost the lives of thousands of people. Regrettably, this phenomenon is seen not only in the case of the COVID-19 pandemic, but the HIV/AIDS epidemic as well.
Many of those who are infected with HIV have little to no access to trusted information or programming that can help curb the infection rate. As a result, at-risk communities must deal with a variety of preventable consequences. Furthermore, harmful stigmas about HIV/AIDS and sexually transmitted diseases can take root, which can be particularly dangerous for young women and girls who have been infected. In some instances, young women who have been infected with HIV will refrain from taking their medication when their parents are around because they fear being ostracized from their community if discovered, allowing the virus to rapidly multiply. UNAIDS estimates that in 35% of countries with available data, more than 50% of people report discriminatory attitudes towards people living with HIV.
In 2020, approximately 37.6 million people were living with HIV, with 1.7 million of those infected being under 15 years old. Although there has been a 30% decline in new HIV infections since 2010, many countries, including the US, have put HIV and AIDS prevention and response strategies on the back burner during the fight against COVID-19. Between 2019 and 2020, there were 700,000 fewer HIV screenings and 5,000 fewer diagnoses in the United States. On a global scale, roughly 680,000 people have died from AIDS-related illnesses since the start of the pandemic. This cannot become the norm. The World Health Organization estimates that unless HIV prevention and response strategies are accelerated, there may be half million excess HIV-related deaths in sub-Saharan Africa, increased HIV infections around the world, and a diminished public health response. With proper funding, HIV and COVID-19 infections can be mitigated, now and in the future.
Both vaccines or medication and trusted programming play important roles for those who are at risk of or already infected with a deadly virus. Studies have shown that education campaigns can delay initiation and frequency of sex, number of new partners, incidence of unprotected sex, and STIs and pregnancy rates. Furthermore, proper education and programming has proven to be one of the most cost-effective measures to take against disease spread. In 2010, ​​Farnham et al. estimated that US HIV/AIDS prevention programs conducted from 1991 to 2006 saved $129.9 billion in medical expenses, and prevented 361,878 new HIV infections.
"Education as a vaccine" does not only apply to the fight against viruses and infection; it also plays a critical role in reducing gender inequalities and empowering women and girls. In the Generation Equality Forum session, "Young people, gender equality, and HIV: ending inequalities, ending AIDS", Faith Onuh Ebere, an activist in Nigeria, explained how gender inequality is one of the top drivers of the HIV epidemic among adults, young women, and girls. She described how restrictive laws prevent young women from accessing contraceptives, increasing the risk of HIV spread due to unprotected sex. Women and girls accounted for 50% of all new HIV infections in 2020, and make up nearly 53% of all people living with HIV and AIDS. This means that the provision of proper programming and education to vulnerable communities not only reduces the spread of deadly viruses, but also empowers women and girls to exercise their bodily autonomy and fully embrace the extent of their human rights without the fear of repercussions, bringing benefits to us all. A few of these benefits include a safer, more robust society and a lower spread of HIV among all communities. In order to make this a reality, we must all advocate for education and programming—it could save your life someday.
Annika Bateman is a senior International Affairs and French Studies double major at Lewis & Clark College in Portland, OR. She interned at the WFPG during Summer 2021.
Header photo: Mother and child at an HIV/AIDS clinic in Maputo, Mozambique. By Talea Miller, PBS NewsHour.

Return to top

Although the COVID-19 pandemic has created many new challenges for the world, the discrimination facing Indigenous women in Latin America has always existed. However, their societal exclusion has reached unprecedented levels since 2019. According to the UNFPA, Indigenous peoples face a higher risk of infection due to a lack of access to safe water for handwashing, a main measure to prevent further spread of the virus. Furthermore, the current economic situation facing Indigenous women is precarious: UN Women estimates that 6 million rural and Indigenous women in the Latin American region are at risk of falling into extreme poverty due to the effects of COVID-19.
Native women and girls are currently in a vulnerable situation, intensified by the effects of the pandemic - but it isn't irreversible. One way to empower these communities is to include their traditional knowledge into COVID-19 response strategies. By giving Indigenous women their long-deserved seat at the table, they can both empower themselves and help their countries successfully emerge from the pandemic.
Across generations, Indigenous communities have created coping mechanisms grounded in traditional knowledge to different circumstances affecting their communities. For COVID-19 specifically, traditional teachings have proven to reduce symptoms of the virus, and practices, such as ubaya/tengaw, a state of rest after hard labor or disasters practiced in the Cordillera in the Philippines, have prepared Indigenous communities for quarantine procedures. During lockdowns, communal practices come into effect, such as the binnadang/ub-ubbo, where community members extend help to those in need.
However, even in quarantine, Indigenous populations around the world still face violence and insecurity, which, in some cases, has intensified due to compliance with government-mandated pandemic responses. For some, restrictions on movement have infringed on Indigenous people's right to adequate food by barring them from accessing land, natural wealth, and resources. For instance, the San people in Botswana were unable to access government permits that exempted people from movement restrictions to allow essential activities, such as resource collection. In Asia, where Indigenous women have always faced harassment, rape, imprisonment and murder, COVID-19 has only worsened the violence. To be sure, Indigenous men are not completely immune to the shadow pandemic. On March 23, 2020, Indigenous leaders Omar and Ernesto Guasiruma of the Embera people of Colombia were murdered in their homes while complying with lockdown procedures.
COVID-19 is not only exposing the violence and discrimination that Indigenous women and girls face every day; it has further revealed the impact of climate change on native communities. Some groups, such as the Orang Asli, the aboriginal people of Peninsular Malaysia, have returned to the forest as their defense against the pandemic and source of sustenance. However, deforestation, the extractive industry, and the introduction of genetically modified species have prevented Indigenous communities from accessing the land, leaving them vulnerable to food shortages during the pandemic. Between 2016 and 2018, deforestation rates rose 150% in Indigenous territories in Brazil, destroying key resources and obliterating a crucial part of the Amazon's carbon sink.
In order for countries to successfully emerge from the pandemic and build a "better normal", Indigenous knowledge must be incorporated into COVID-19 response strategies. For environmental policies, traditional resource use and management practices can lessen the risk of food shortages and mitigate the effects of climate change. Although Indigenous communities comprise less than 5 percent of the world's population, they protect 80 percent of the world's biodiversity. This means if national governments were to use Indigenous knowledge in this area of policy-making, we would all prosper. Environmental degradation would be greatly curbed if the sovereignty of Indigenous lands was better protected, lessening the risk of a future global pandemic as the human relationship with nature is rebalanced.
The use of traditional Indigenous lockdown procedures would be particularly advantageous for governments as well. The principles of ubaya/tengaw and binnadang/ub-ubbo are illustrative examples of the established rituals Indigenous communities have when faced with crises. Although countries have created their own lockdown protocols during the pandemic, the use of Indigenous language when formulating regional policies would be more culturally appropriate and foster greater communication between governments and native peoples. Furthermore, advocacy for the concept of ayyew, a term also from the Cordillera in the Philippines meaning to not waste anything, would mitigate the use of excess resources throughout times of national struggle. This policy could be particularly crucial in the event of food shortages during and after the pandemic.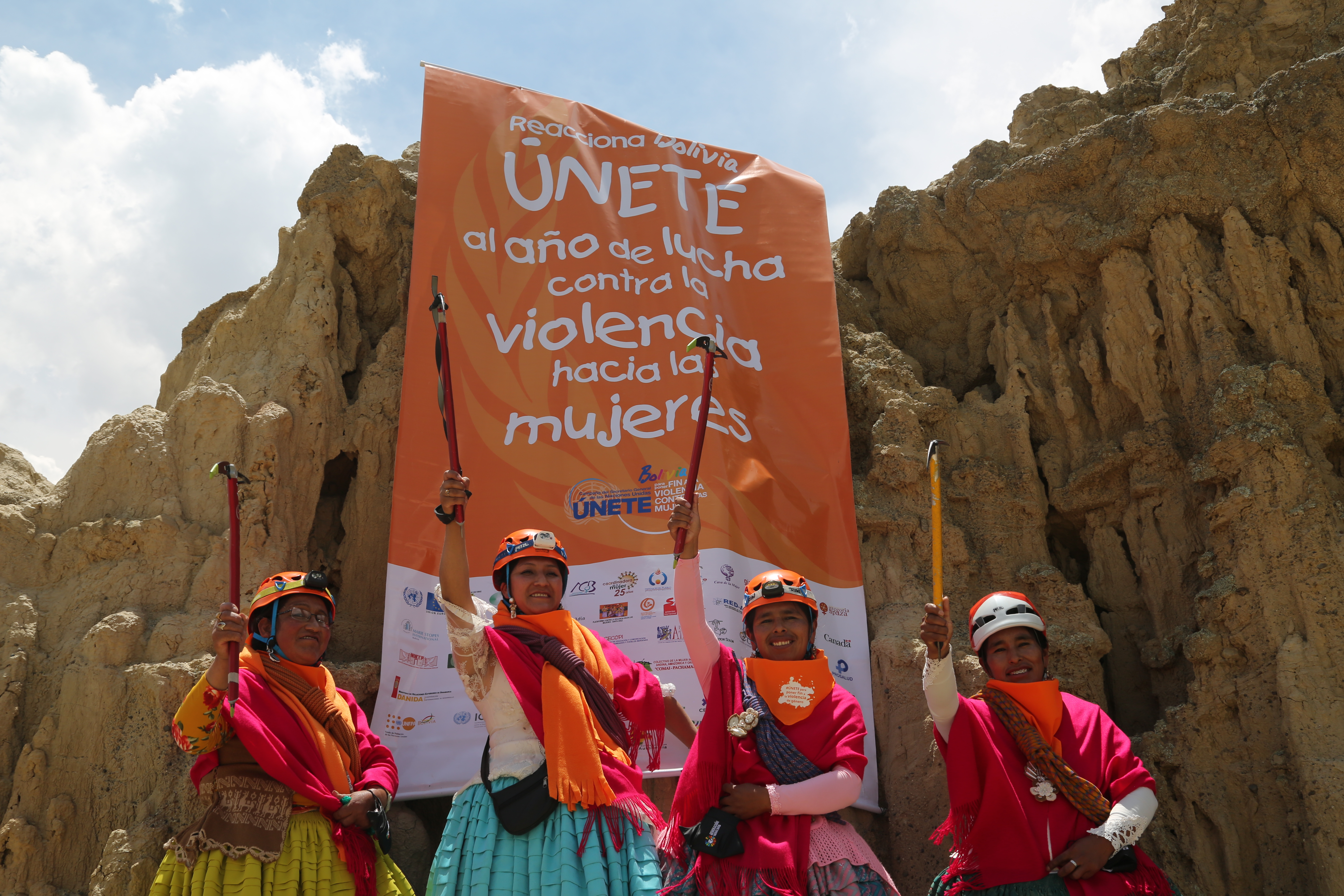 In Bolivia, Las Cholitas Escaladoras, are a group of Indigenous women who climb mountains in Latin America to spread awareness for the prevention and elimination of all forms of violence against women. Last year, their goal was to reach the summit of Huayna Potosi, at 6,000 meters above sea level. Image Source
This summer, the Generation Equality Forum hosted multiple sessions on the current issues facing Indigenous communities. I attended an event on "The inclusion of indigenous women in responses to the crisis and recovery from COVID-19", which began with a video of Las Cholitas Escaladoras, a group of Indigenous women activists in Bolivia who climb mountains in traditional dress, shattering stereotypes and raising awareness for the violence committed against Bolivian women. In the session, Indigenous women from all over the world shared their experiences and advocated for the inclusion of native women in COVID-19 recovery responses to empower both Indigenous communities and countries as a whole.
By implementing native knowledge into policy responses, Indigenous rights can be respected, Indigenous women can be empowered, and Indigenous voices can be heard at future policy discussions. Although the COVID-19 pandemic is a new 21st century challenge, traditional knowledge may be the key to building a safer future for all.
Annika Bateman is a senior International Affairs and French Studies double major at Lewis & Clark College in Portland, OR. She interned at the WFPG during Summer 2021.
Header photo: Indigenous women in Guatemala have less access to services, such as education, limiting their possibilities for employment and income. Investing in native communities and boosting Indigenous women's entrepreneurial abilities can grant them economic autonomy and help them escape from violence. Photo Credit: CarlosVanVegas
In 2019, one of the editors of the recently published open-access book Women and the UN: A New History of Women's International Human Rights asked me to contribute a chapter on the history of UNSCR 1325, with a focus on the women who were instrumental in its birth. Her request brought me up short. While I had written much about the implementation of UNSCR 1325, I was unfamiliar with its creation beyond the role played by civil society. I needed to learn more to write my chapter that examines how, in a UN Security Council composed of almost all men, the Security Council unanimously adopted the first resolution on Women and Peace and Security, UNSCR 1325.

At the start of my research, I began with a deficit. I knew none of the actors. After reviewing the existing material and literature on the creation of UNSCR 1325, as well as examining relevant Security Council transcripts, I compiled a long list of people I wanted to interview and reached out to individuals and organizations--including the WFPG--who might be able to help connect me to the persons I wished to interview.

As a result, I had the good fortune of being able to interview every single living woman who spoke at the UN Security Council Open Debate on UNSCR 1325: UNIFEM Executive Director Noeleen Heyzer; Ambassador Claudia Fritsche of Liechtenstein; Parliamentarian Krishna Bose of India; Jelena Grčić Polić of Croatia; Ambassador Penny Wensley of Australia; and Ambassador Nancy Soderberg of the US. I also was able to interview many who spoke at the Arria Formula meeting, to include Luz Méndez Gutiérrez, the peace negotiator who successfully fought to include rights for women in the Guatemalan peace accords. I am shocked that her recent death was and is not widely reported.

Noeleen Heyzer, in order to include me in her schedule, skyped with me at almost midnight her time in Bangkok. Heyzer, during the course of the interview, disclosed never-before revealed particulars of the internal pushback made against her as she worked on the Arria Formula meeting that helped convince members of the UN Security Council that UNSCR 1325 needed to be adopted. Her newest book, Beyond Storms and Stars - A Memoir, will be available in the US in September 2021. It addresses her journey to the position of Under-Secretary-General of the United Nations while exploring the difference that UNSCR 1325 made for women caught in conflict and on the UN system itself.

Parliamentarian Krishna Bose, the only woman as of 2020 to have chaired the Indian Parliamentary Standing committee of External/Foreign Affairs, died three weeks after responding in writing to my questions. That shook me. That day I could not stop crying. I had asked her hard questions, to include the difference between two Indian Parliamentarians at Beijing+5: Bose and Phoolan Devi. Assassinated in 2001, Phoolan Devi had served in prison (without trial) for extrajudicial actions of damaging or dismembering penises of unprosecuted rapists. Parliamentarian Krishna Bose informed me that Devi "brought out [to Beijing+5] the stark reality of the situation while we were discussing women's issues only theoretically." Sugata Bose, a Harvard professor, a member of India's Parliament and a son of Krishna Bose, tells me the inaugural Krishna Bose Lecture occurred in Calcutta on December 26, 2020.

During the course of my research, it became clear to me how imperative it is to record our history before it is lost. My hope is that this chapter on UNSCR 1325 will spur other participants to write their histories. Recently I received an email from one of my interviewees, civil society activist and Arria Formula speaker Inonge Mbikusita-Lewanika, sharing that she is planning to publish her papers and statements on Women and Peace. I hope that others will follow her example.

Writing this history of the creation of UNSCR 1325 awoke in me appreciation of, and gratitude toward, those who had the vision and grit to create UNSCR 1325. It made me realize that we need to ensure we do not subscribe to the prevailing mode of history, that of erasing all but a few of our heroines, but instead to realize, like the creation of UNSCR 1325, our history is the result of many. It also awoke in me the desire to continue my explorations post-COVID, to include exploring (1) the archives of those who died before I could interview them, including Assistant Secretary-General Angela King, (2) the gender histories of the Member States that sponsored and supported UNSCR 1325, including the pro and anti suffrage forces in Liechtenstein, and (3) to learn more about the internal story of the Member State that sponsored UNSCR 1325, Namibia.1

Cornelia Weiss is a former colonel, having served in the Americas, Europe and the Pacific. Honors received include the US Air Force Keenan Award for making the most notable contribution to the development of international law. Knowing that history is often used as an excuse to exclude women, she excavates forgotten history about women, peace, and power.

Header photo: from left, Luz Mendez (Guatemala), Faiza Jama Mohamed (Somalia), Noeleen Heyzer (Singapore), Angela King (Jamaica), and Inonge Mbikusita-Lewanika (Zambia), 2000. UN Photo
---
1Through engaging with Namibian "penholder" Aina Iiyambo, I was able to begin exploring "insider" insights into the drafting of UNSCR 1325; however, I was not able to obtain any of the working drafts of what became UNSCR 1325. I hope post-COVID that these will emerge with help from readers of this blog.