The Syrian Humanitarian Crisis
Anne C. Richard, Assistant Secretary of State for Population, Refugees, and Migration
Photos | Transcript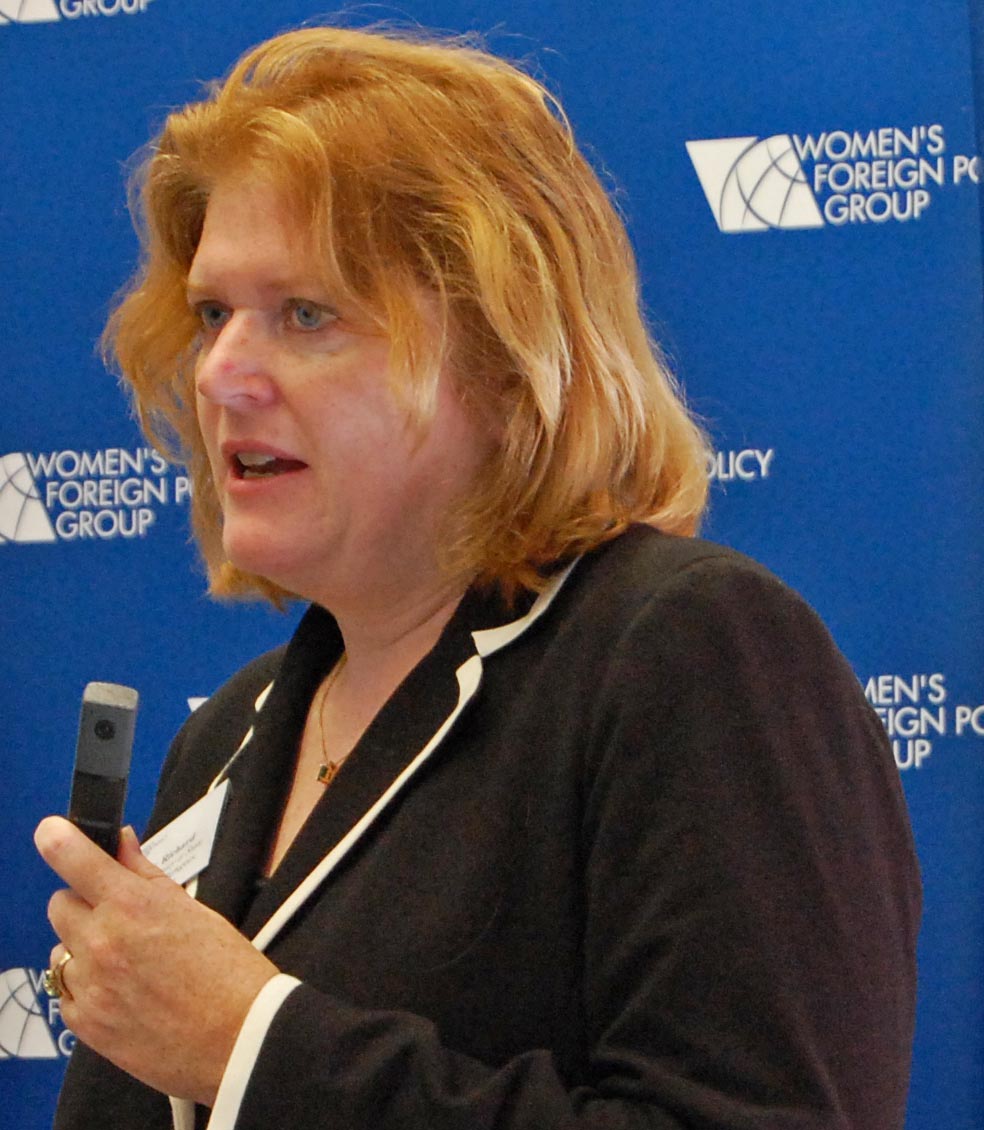 Washington, DC—On October 10, 2012, Anne Richard, Assistant Secretary of State for Population, Refugees, and Migration spoke with WFPG members and guests about the Syrian humanitarian crisis. Her remarks included an overview of the distribution of aid around the region, the situation in Syria and remarks about the responses from neighboring countries to this crisis.

Richard explained how the conflict in Syria has evolved, forcing many Syrians to seek refuge in neighboring countries. In her words, "Each of the four neighboring countries [Turkey, Lebanon, Jordan and Iraq] has handled the refugee influx differently and they've had to juggle different economic and domestic pressures in offering a temporary home to the refugees from Syria." In fact, many of these countries were already hosting large numbers of refugees prior to the Syrian crisis.

The US has contributed over $130 million in humanitarian assistance to help alleviate this crisis. This aid has primarily gone to the World Food Program and UNHCR. Richard explained that 2.5 million Syrians are in need of humanitarian assistance and that 1.2 million are displaced. Organizations such as the Syrian Arab Red Crescent and the International Committee of the Red Cross are assisting refugees with food, shelter, medicine and other supplies; however, it has been a challenge for some humanitarian organizations to get into Syria.

In Turkey, there are 14 refugee camps and they plan to establish others. Richard explained that while Turkey originally provided aid in the crisis without international assistance, the dramatic increase of refugees over the summer has forced them to reach out to the international community for additional support.

Richard continued to contrast how each of Syria's neighboring countries have dealt with the refugee crisis. Jordan's situation is unique compared with neighboring states because many refugees are staying with relatives and friends, although they do have one refugee camp (al-Za'atri). Lebanon, on the other hand, has no refugee camps and it has been challenging for organizations providing aid to get into the country. Iraq has to deal with the influx of Syrian refugees, as well as accommodating the flood of returning Iraqis, who are also in need of aid. Richard stressed how important it is for refugees in each of these countries to register with UNHCR, so that they are able to identify groups needing assistance.

Assistant Secretary of State Anne Richard
addresses WFPG


WFPG President Patricia Ellis, Board Member
Dawn Calabia, and Assistant Secretary Richard


Assistant Secretary Richard and Patricia Ellis



Moderator Dawn Calabia introduces
Assistant Secretary Richard


Ambassador Elena Poptodorova of
Bulgaria poses a question


WFPG members and guests listen to the program



Refugees International Board Chair
Eileen Shields-West
Assistant Secretary Richard meets attendees
after the program